How Adam utilized Bullet to publish content using his mobile.
Discover how language enthusiast Adam Silén enhanced his teaching approach using Bullet.so. Learn how he streamlined content creation, tackled mobile accessibility challenges, and achieved effective content localization for a seamless learning experience.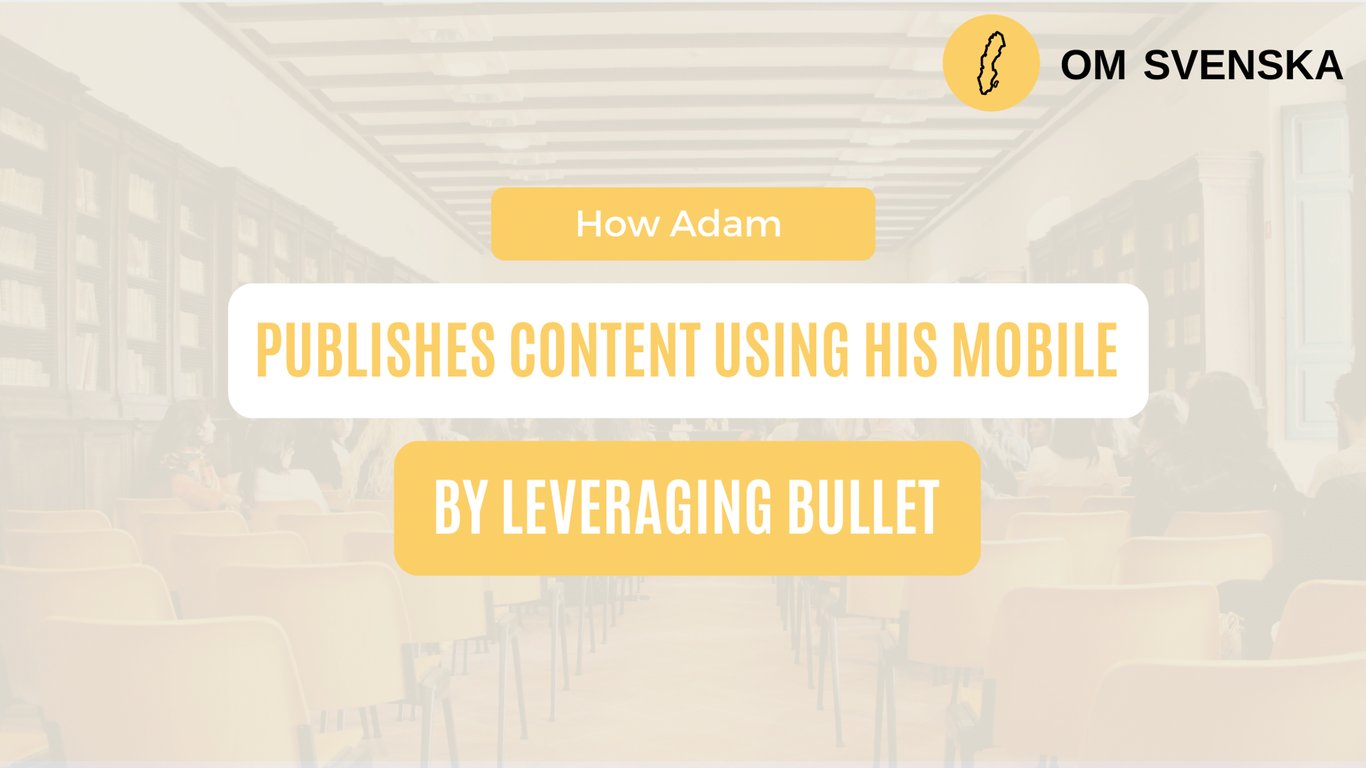 About Adam Silén:
Adam Silén, a passionate language enthusiast, teaches Swedish language as a side hustle. Looking to optimize his teaching approach, Adam sought a solution that would streamline his content creation and delivery processes.
The GitBook content editor wasn't good enough and the site couldn't be customized. Plus, it didn't work on the phone. So that was a deal breaker for me.
- Adam Silén, Online teacher.
The Challenge:
Inefficient Workflow: Adam's previous workflow involved drafting content on various platforms, then copying and reformatting it on WordPress or gitbook which often lead to inconsistencies and took away a lot of his time.
Mobile Accessibility: The inability for WordPress and gitbook to seamlessly integrate with a mobile device hindered his content creation and editing experience.
Localization Limitations: Adam faced difficulties localizing his content to Swedish, a crucial requirement for his target audience.
The Solution:
Adoption of Notion: Adam transitioned to using Notion as his primary content creation tool to benefit from its flexibility and user-friendly interface.
Effortless Localization: As Bullet.so enables easy one click localization, it allowed Adam to cater to his Swedish audience with zero-hassles.
I write my content in notion using that like essay or Hub for my content. It's really cool i can write while i am commuting or immediately when an idea pops up and bullet transforms it into the website.
- Adam Silén, Online Teacher.
Results:
Streamlined Content Creation: Adam simplified his content creation process, directly writing in Notion and effortlessly transforming it into a webpage using bullet.
Mobile Accessibility: The integration of Bullet.so resolved Adam's mobile access challenge, As it enabled him to write seamlessly on notion app both on mobile and desktop.
Localized Teaching: Adam successfully localized his content to Swedish with the help of bullet and enhanced the learning experience for his target audience.
Conclusion:
Adam Silén's journey showcases the transformative impact of
Bullet.so
.
By integrating Notion and
Bullet.so
, he achieved streamlined content creation, improved mobile accessibility, and effective localization.