How to create a blog using WordPress - A definitive guide
Master the art of blogging with our definitive guide on creating a WordPress blog. Start your journey today!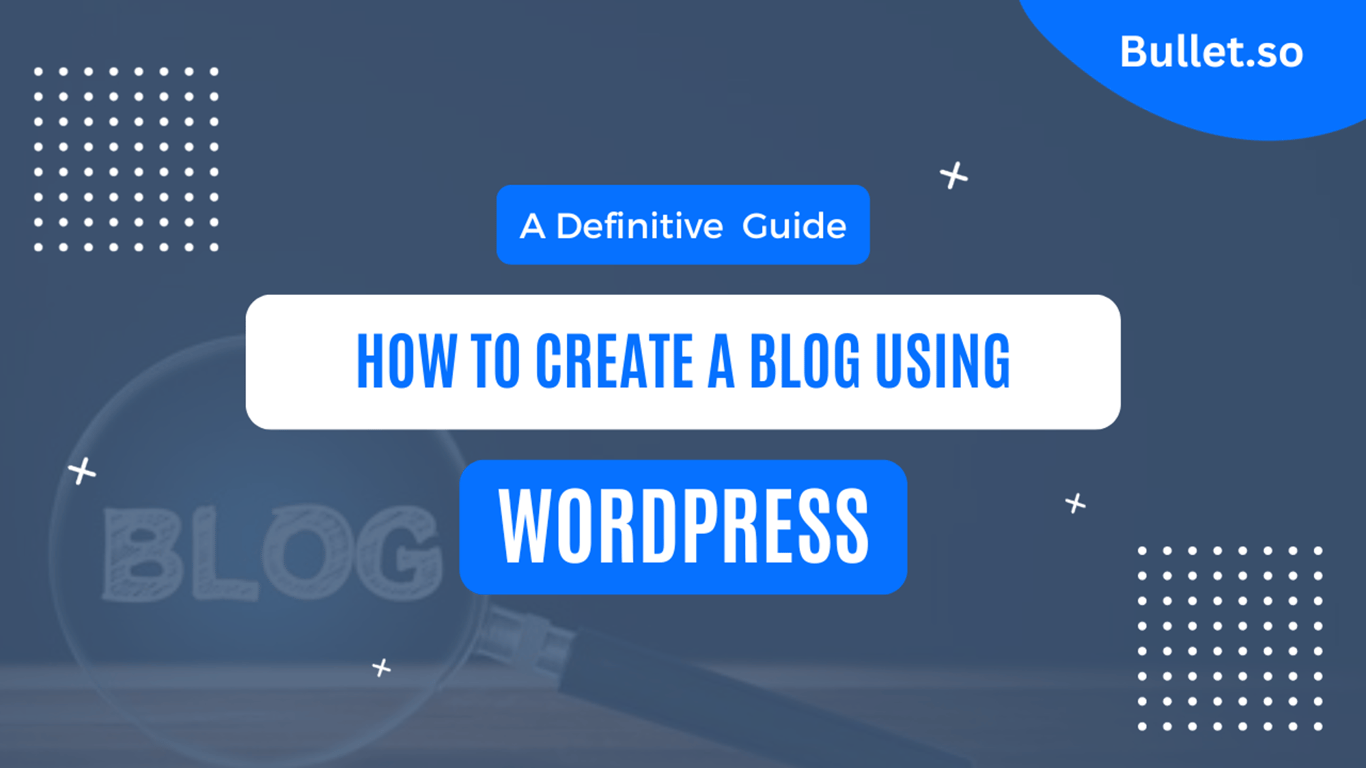 Considering starting a WordPress blog?
However, the process of initiating a blog on WordPress can be overwhelming, especially with the abundance of information available online and conflicting advice from fellow bloggers. It's natural to feel puzzled and unsure of where to begin.
But don't worry, you're not alone in this. We're here to guide you. This free guide is designed to help beginners, regardless of whether you're 8 or 88 years old.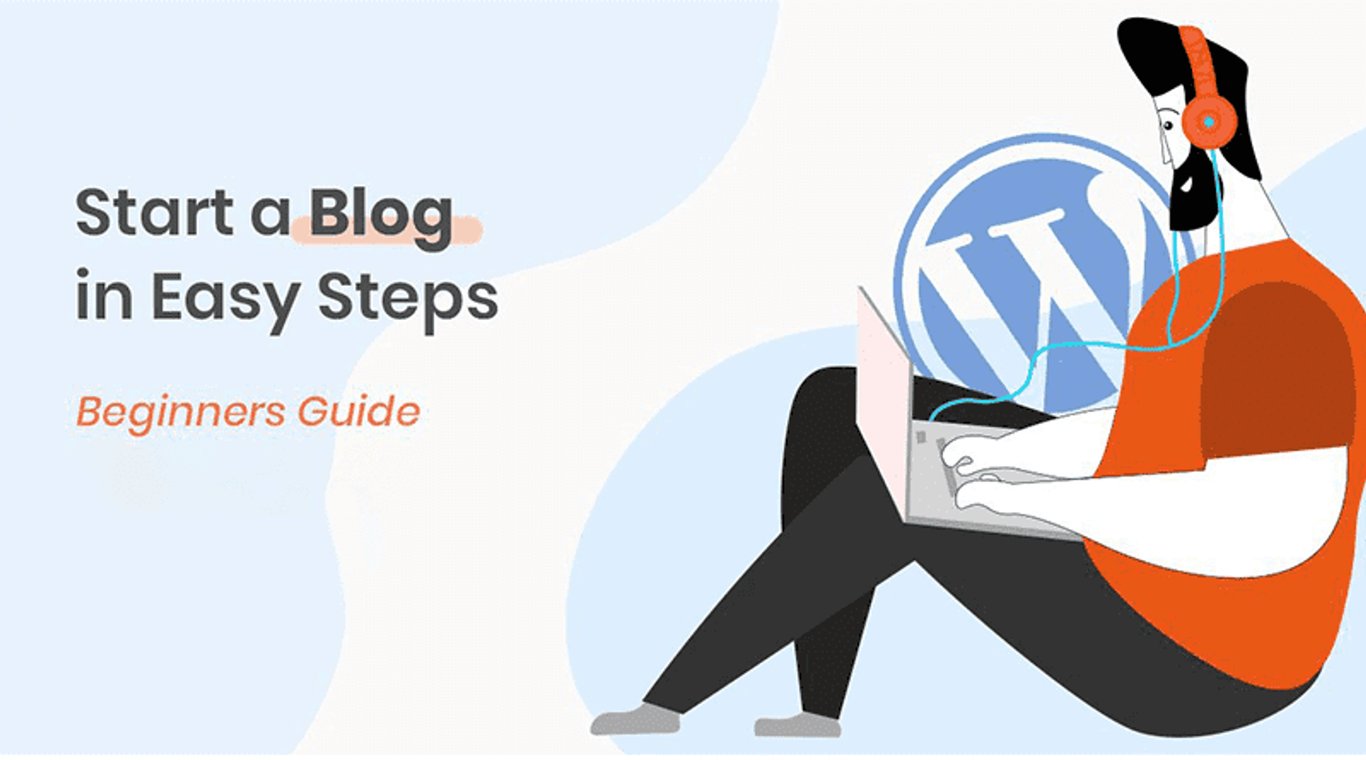 I assure you, constructing your blog on WordPress will be straightforward, relatively simple, and entirely comprehensible. Sounds promising, doesn't it?
So, let's proceed.
Why start a blog on WordPress
If you're considering launching a blog, there are numerous compelling reasons to opt for WordPress, such as its extensive community support, diverse array of features, and the straightforward process of creating a blog account.
Why WordPress?
Access 5,000+ free and premium WordPress themes for top-quality design.
Utilize numerous resources to create the best blog.
WordPress powers 91% of all blogs.
62% of the top 100 company blogs use WordPress.
Choose from 45,000+ free plugins for a smoother and more efficient blog.
However, the advantages of using WordPress extend far beyond mere online content publication.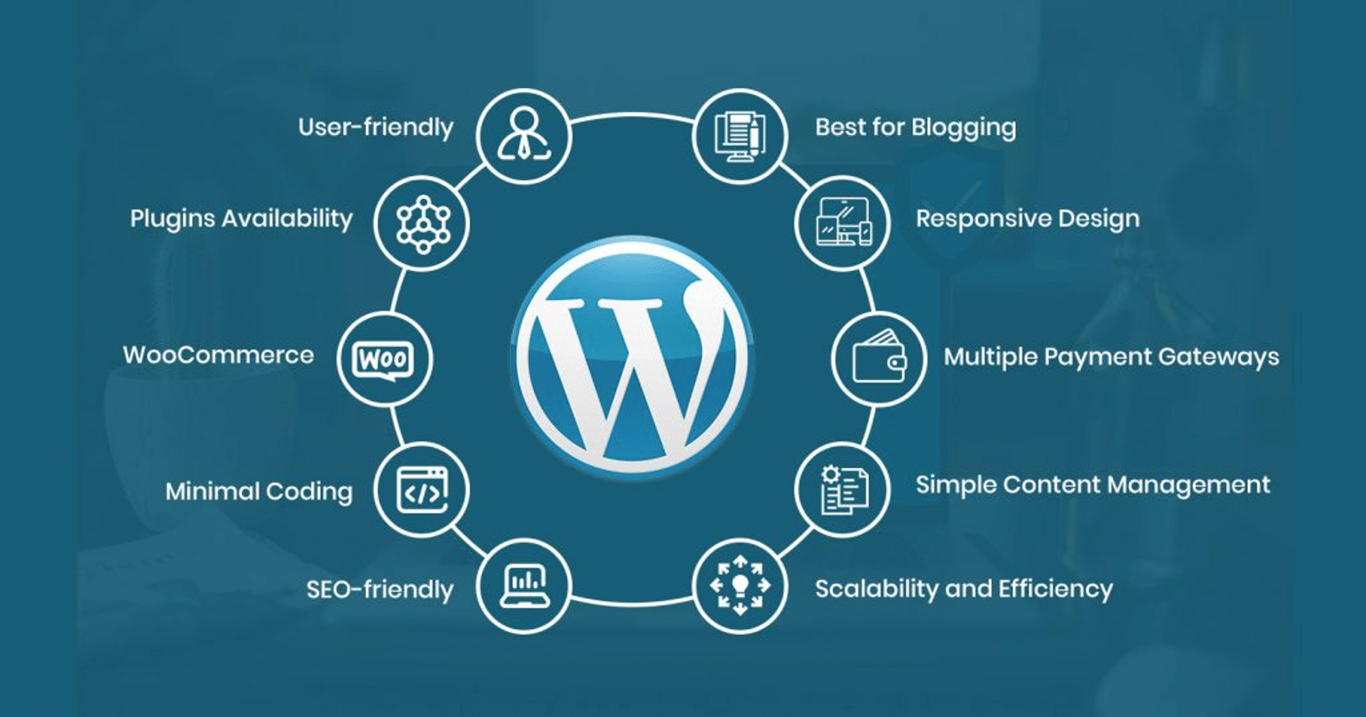 Here are the compelling reasons to choose WordPress:
Ease of Use: WordPress is known for its user-friendly interface. You don't need to be a web development expert to start a blog. The platform offers intuitive tools for creating and managing your content.
Customization: WordPress provides a wide range of themes and plugins that allow you to customize your blog's design and functionality according to your preferences. This means you can create a unique and personalized blog.
Scalability: Whether you're starting a small personal blog or planning to grow it into a full-fledged website, WordPress is highly scalable. You can add more features and content as your blog expands.
SEO-Friendly: WordPress is designed with search engines in mind. It offers plugins like Yoast SEO that help you optimize your content for search engines, improving your blog's visibility.
Community and Support: WordPress has a vast and active user community. This means you can easily find resources, tutorials, and support when you encounter issues or need help with your blog.
Mobile Responsiveness: Most WordPress themes are responsive, which means your blog will look good and function properly on a variety of devices, including smartphones and tablets.
Content Management: WordPress is a full content management system (CMS), which makes it ideal for managing and organizing your blog posts, images, and other content.
Security: WordPress takes security seriously and regularly releases updates to address vulnerabilities. Additionally, there are security plugins available to help you protect your blog.
Blogging Features: WordPress was initially created as a blogging platform, so it excels at managing and presenting blog content. It provides features like categories, tags, and commenting systems.
Monetization: If you plan to monetize your blog, WordPress allows you to integrate various advertising and e-commerce options, making it suitable for businesses and bloggers seeking to generate income.
Ownership and Control: When you use WordPress, you have control and ownership of your blog and its content. You're not dependent on a third-party platform, and you can choose your own hosting.
What are the things needed before you start a Blog on WordPress?
Below are the three essentials for setting up a WordPress blog:
A domain name - This will serve as the address of your blog.
A web hosting account - This is where your website will be stored on the internet.
Your undivided focus for 30 minutes.
Indeed, it's entirely feasible to initiate a blog from the ground up within half an hour, and I'll guide you through the entire procedure, one step at a time.
Ready? Let's get started
Step-by-Step guidance for creating a blog on WordPress
Step 1 : Select a Topic for your blog & establish your Domain
When it comes to crafting content for your WordPress blog, it's crucial to select a topic that genuinely interests you and harness your writing skills.
After you've settled on a subject, the next step is to establish your domain name. You have the option to choose either a generic domain name or one that reflects your expertise.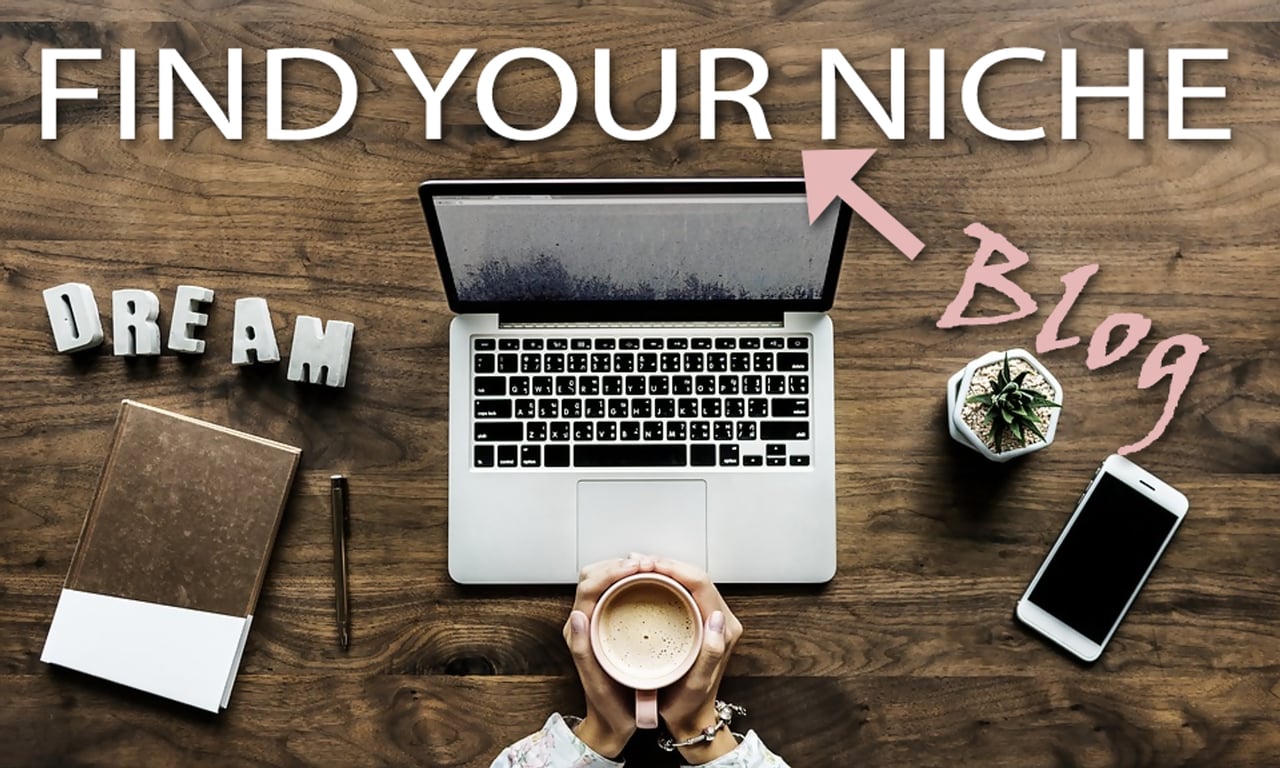 The general process for choosing a WordPress blog topic and configuring your domain name involves the following steps:
Determine the primary focus of your blog, as this will guide the types of topics you'll explore.
Investigate well-established blogs in your niche to understand their content, approach, and overall style.
Assess the success of these influential bloggers in terms of their readership and engagement rates, such as comments and shares. Identify the factors that make them stand out.
Compile a list of topics related to your chosen focus, including keywords and phrases to enhance your content's discoverability by search engines if you plan to drive traffic through search engine optimization.
Proceed to select your domain name. Once you've assembled a strong list of potential blog topics, it's time to initiate the process of securing your domain name. Begin by searching for domains that align with your blog's focus and check their availability. Once you find a domain that meets your criteria, proceed to make an offer according to the pricing guidelines.
Step 2 : Select and personalize a Blog Theme
When you install WordPress, it comes with the default Twenty Twenty-Two theme, a minimalist and customizable option.
However you can explore numerous free and premium themes with various features like colors, sidebars, backgrounds, Google Fonts, and layouts.
Select a theme based on your goals, like a simple design, a comment section, logo upload, header/footer customization, and social sharing buttons.
Here are a few popular WordPress blog themes:
Astra: A versatile theme that can be customized for various types of websites, including blogs.
Divi: Known for its powerful drag-and-drop builder, Divi allows for easy customization.
GeneratePress: A lightweight and fast-loading theme that's suitable for blogs and other types of websites.
Newspaper: Specifically designed for news and magazine-style websites, but can also be used for blogs.
OceanWP: A highly customizable theme with a range of pre-built templates suitable for blogs.
Soledad: A multi-concept blog and magazine theme with a plethora of customization options.
Schema Lite: Designed for SEO optimization, this theme is well-suited for content-driven blogs.
Hestia: A modern and clean theme that's compatible with popular page builders for easy customization.
Zillah: A stylish and minimalist theme perfect for bloggers looking for a clean and elegant design.
Writing: A clean and minimalist theme that puts the focus on content, making it great for writers.
Ensure it's responsive and lightweight for excellent performance on all devices and SEO ranking.
Customize the theme to align with your content. For instance, opt for a green palette for environmental topics or a sans-serif font for a clean and modern look on news-focused blogs.
Step 3: Create your First Blogpost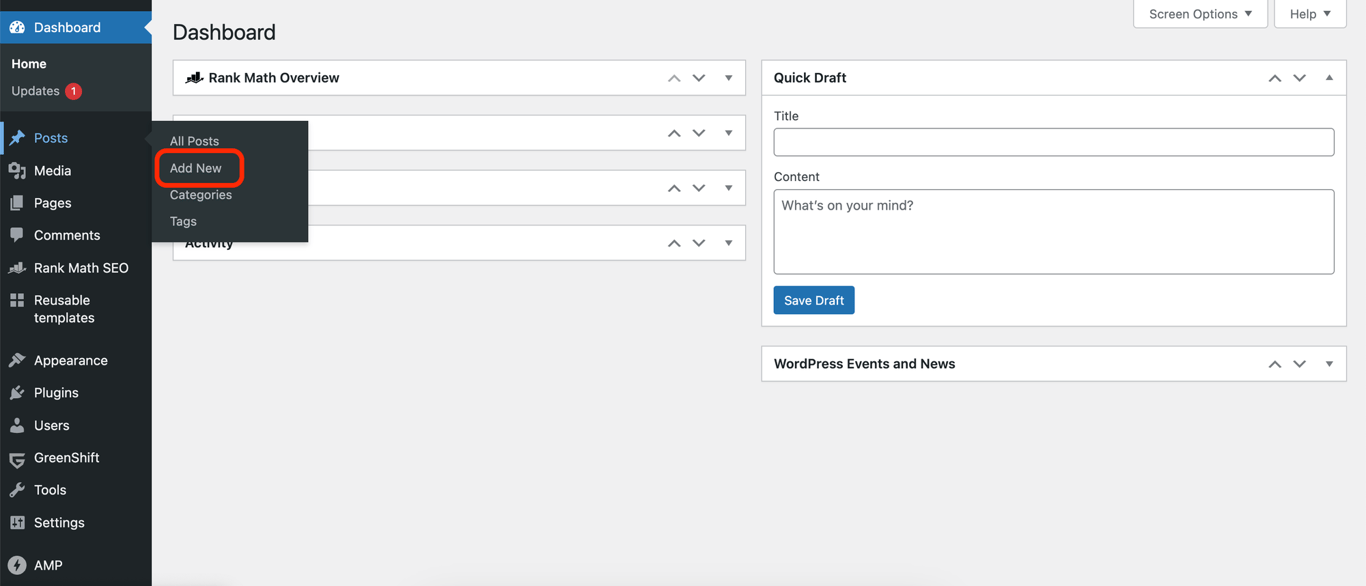 With WordPress, creating a blog post is straightforward. In your dashboard, go to "Posts" and click "Add New." You'll be presented with an editor where you can add text, images, and multimedia content. Don't forget to set categories and tags to organize your content.
Step 4 : Enhance your posts for search engines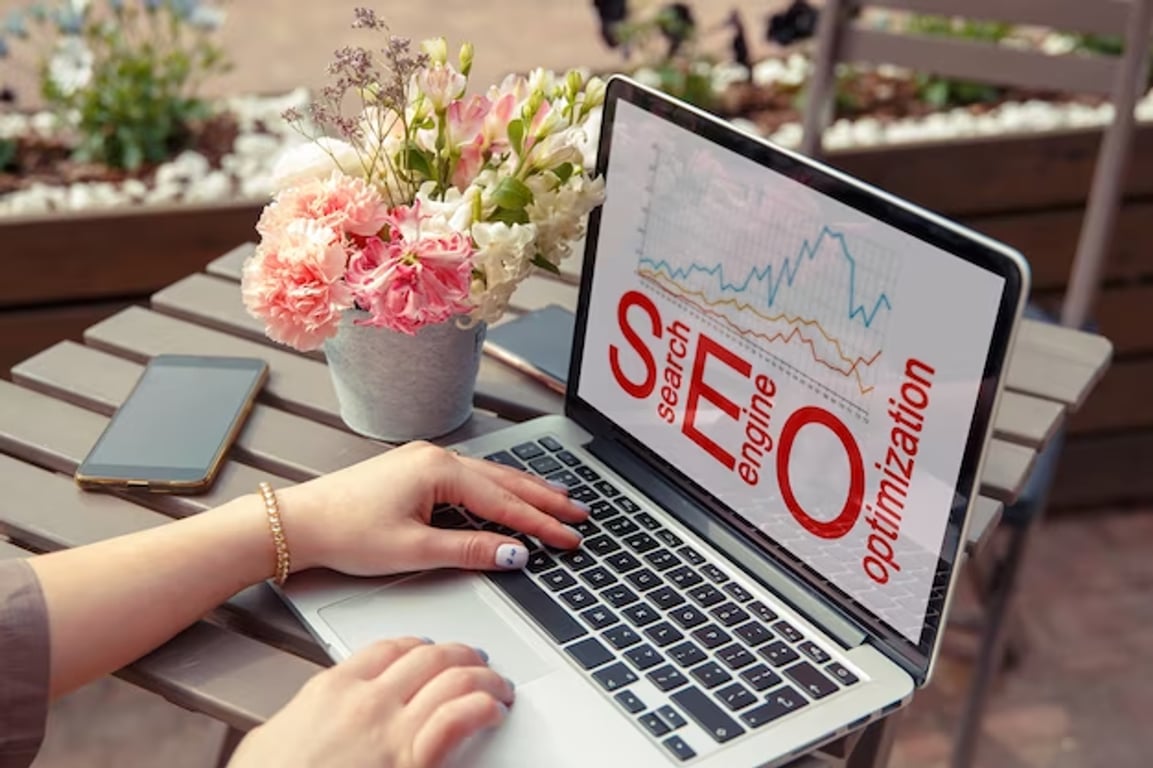 When creating a blogpost in WordPress, you need to ensure that they are optimized for search engines. Consider these tips:
Utilize Titles and Headings Rich in Keywords:
Ensure that both your post titles and headings incorporate at least one relevant keyword. This practice boosts the likelihood of your content ranking higher on search engine results pages (SERPs).
Focus on Reader-Relevant Topics:
Tailor your posts to subjects that align with your readers' interests. Understanding their preferences will increase the likelihood of them clicking through to read your content.
Seamlessly Integrate Keywords:
Scatter keywords naturally throughout the body of your posts. For instance, if you're discussing gardening, include terms like "garden tools," "planting flowers," and "flower care" to enhance the discoverability of your content.
Incorporate Links to Related Content:
For improved accessibility to related information, be sure to include links to other articles with similar content. This enhances the user experience, especially for those searching specific topics.
For instance, if someone is inquiring about indoor flower planting, you could provide a link to an article offering guidance on successful hydroponic methods for indoor cultivation.
Step 5: Add Essential Plugins
Plugins add functionality to your WordPress blog. Some key plugins to consider include:
Yoast SEO: For search engine optimization.
Akismet Anti-Spam: To prevent spam comments.
Jetpack: For security and performance enhancements.
UpdraftPlus: For backups.
You can install these plugins from your WordPress dashboard by navigating to the "Plugins" section and clicking "Add New." The plugins can also be changed based on the individual requirements.
Steps to Take After Publishing a Blog on WordPress
After publishing a blog post in WordPress, there are several important steps to take to promote your content, engage your audience, and optimize its visibility. Here's a checklist of actions to consider after publishing a blog in WordPress:
Proofread and Edit: Review your post for errors, typos, and formatting issues. Correct and refine the content as needed.
SEO Optimization: Ensure your post is optimized for search engines by using relevant keywords and writing a compelling meta title and description.
Social Media Sharing: Share your post on social media platforms, crafting engaging posts with a link to your blog. Use relevant hashtags for visibility.
Email Subscribers: Notify your email subscribers about the new post, providing a brief summary and a link to the full content.
Engage with Comments: Respond to comments on your blog post to foster discussion and engage with your readers.
Internal Linking: Add internal links to related posts on your blog to improve SEO and encourage further exploration.
Monitor Analytics: Use analytics tools to track post performance, including page views, bounce rate, and time on page.
Backlink Outreach: If you mention others in your post, reach out to them and request shares or backlinks to your content.
Promote in Communities: Share your post in relevant online communities, forums, or discussion groups where it adds value.
By following these steps, you can effectively promote your blog post and engage with your audience, enhancing your content's visibility and impact.
Wrapping Up
Starting a WordPress blog may initially seem daunting, but you'll be pleasantly surprised at how straightforward it is, regardless of your technical background.
Once you've chosen a host, registered a domain, and installed WordPress, you're ready to set up your blog.
Customizing the theme, adding plugins, opting for a maintenance plan, and writing your first post are all quick and easy steps.
As you become more familiar with WordPress, you can explore various features and even start monetizing your content. Start your blogging journey today and watch your ideas and content flourish on this versatile platform.