20 knowledge base examples to inspire you in 2023
Explore these 20 knowledge base examples for inspiration and guidance in creating your own informative resource.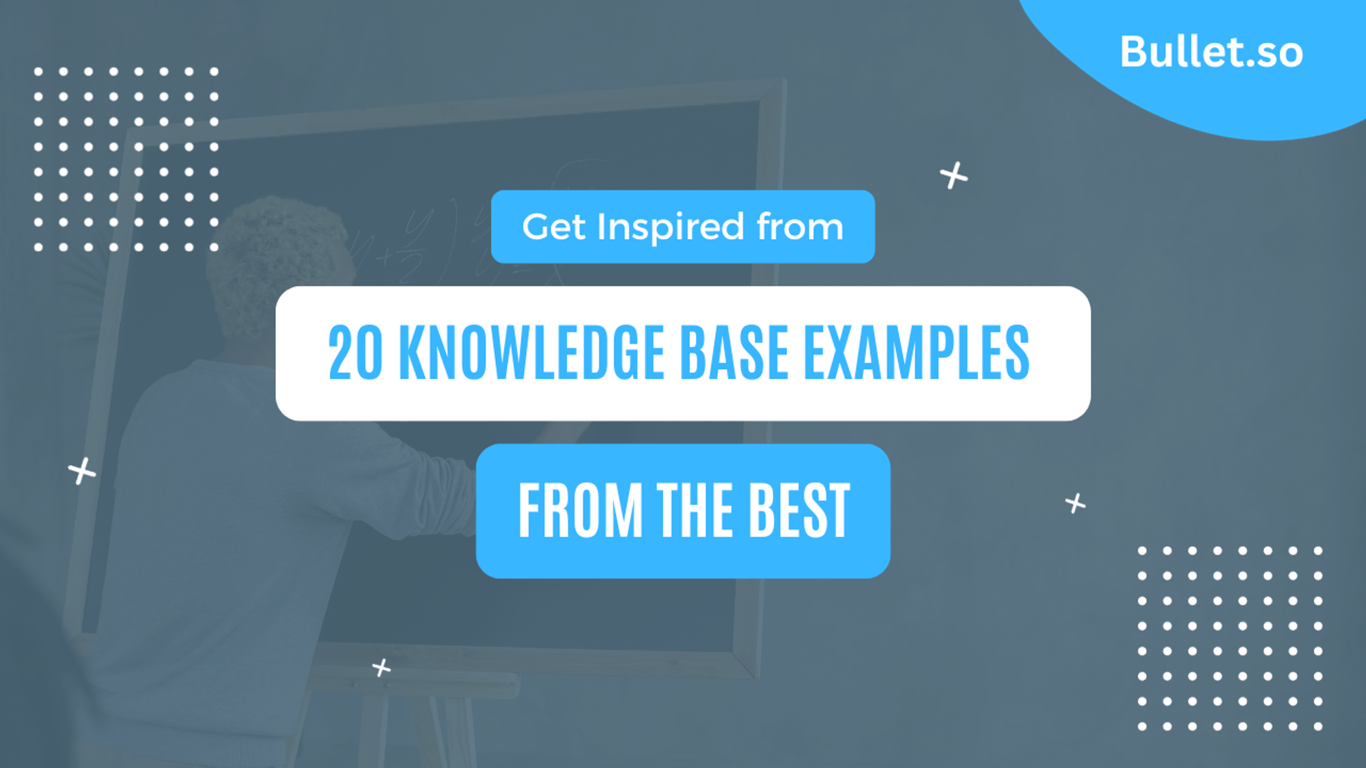 Have you ever conducted a Google search for "How to remove my [Company Name] account" and found yourself on a page providing exact instructions for that task?
Benefits of creating a good Knowledge Base
People value instant solutions and prefer finding answers themselves. Customer self-service portals and knowledge base articles are crucial additions to a website.
Customers want to find answers easily, like a Google search. A robust help center on your website is essential for a positive customer experience and lower support ticket volumes.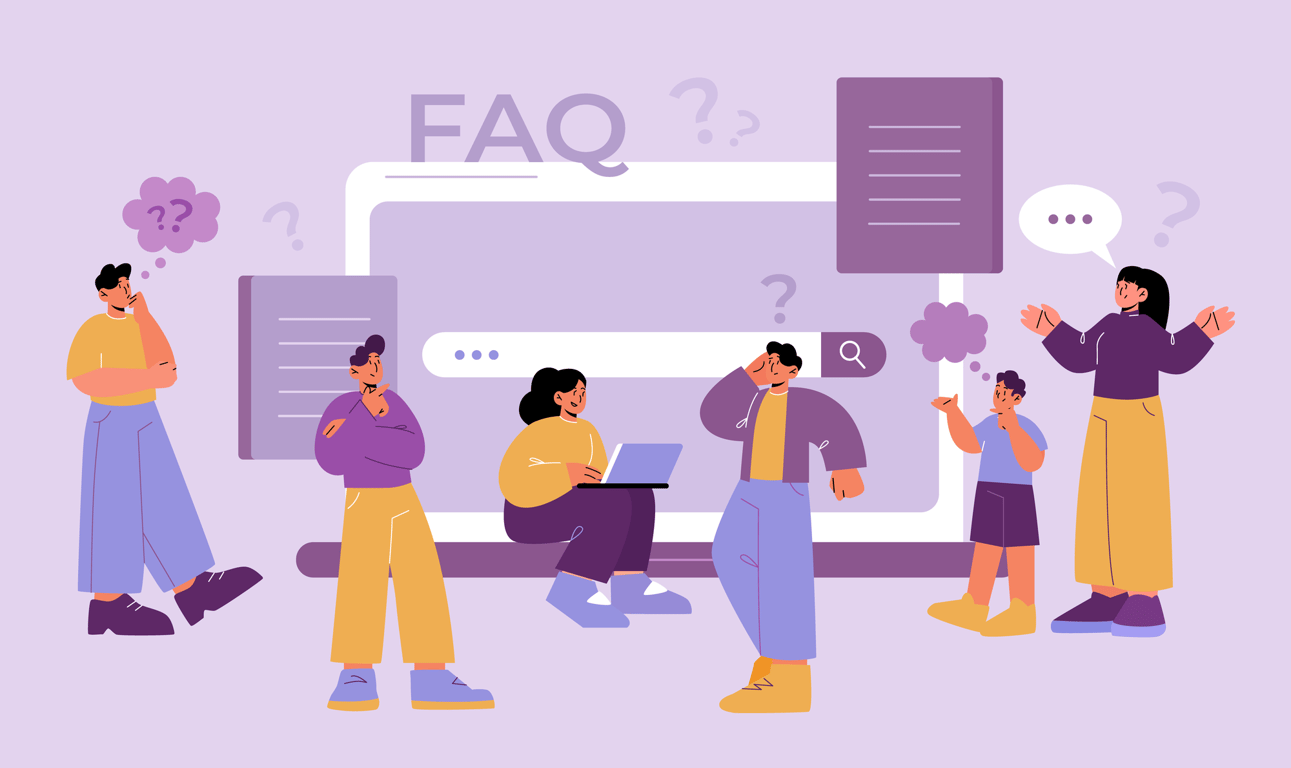 Without any additional delay, here is our list of some useful knowledge base examples.
20 Best Knowledge Base Examples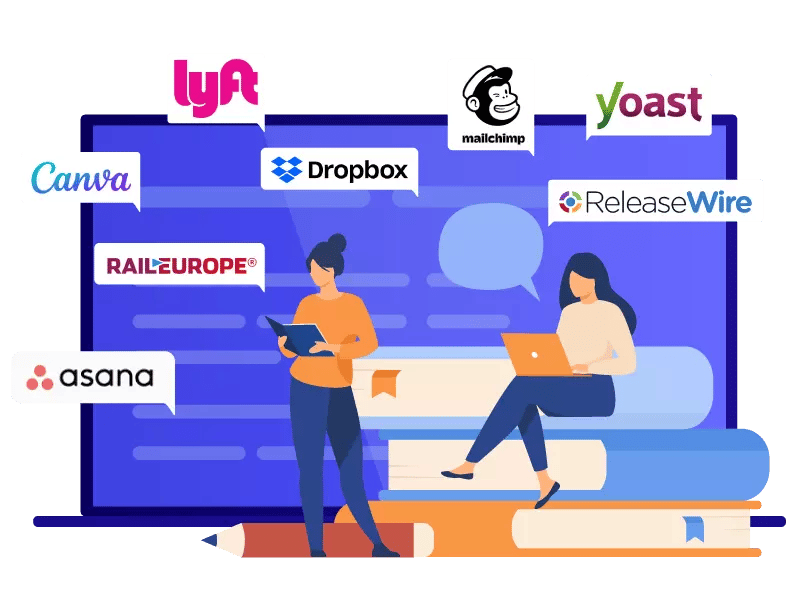 1. Bullet.so
Bullet.so provides a comprehensive knowledge base that empowers its customers to locate solutions to their queries independently, eliminating the necessity to reach out to their Customer Success Manager (CSM) or seek support.
This in turn helps to enhance their productivity and also helps to manage their organization effectively.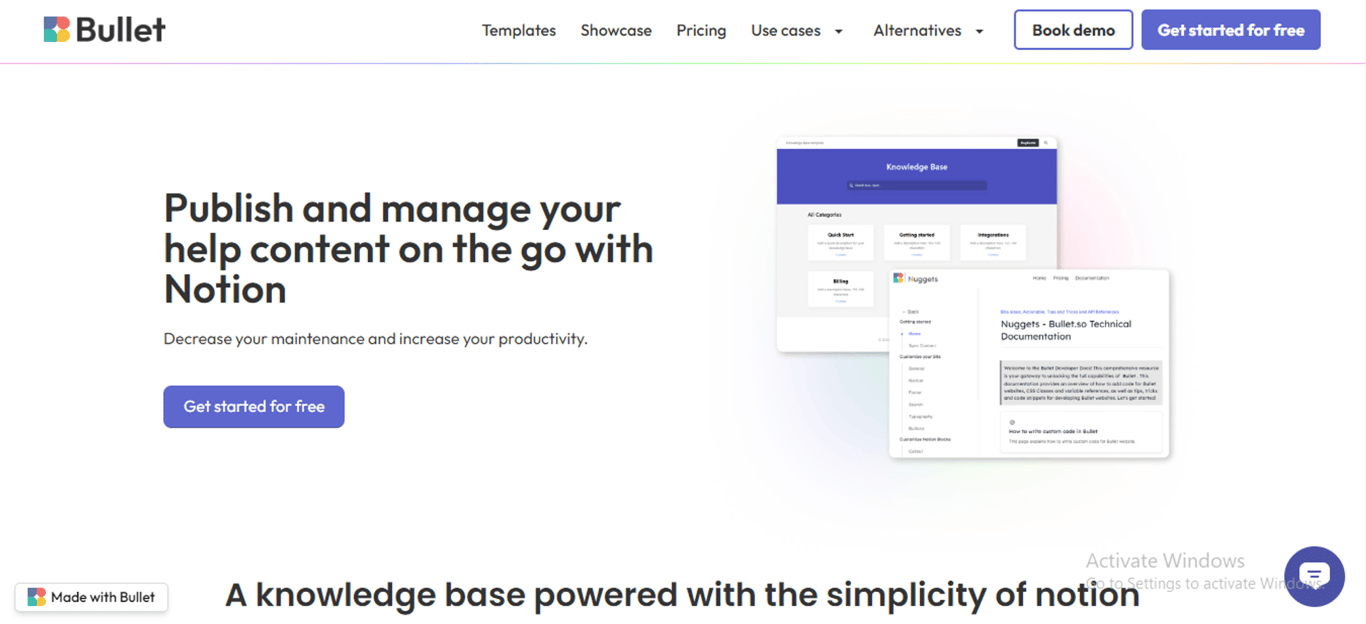 2. Notion
When you access the help center, you'll find online training for both the Basics and Advanced levels. Instead of overwhelming users with text, Notion provides insightful videos to help users get a grip on the product.
By prioritizing these elements, Notion ensures that visitors can easily grasp the product's ins and outs, following a modern approach often seen in knowledge bases.
Take a lesson from this example and streamline your customer onboarding process for a smoother start with your product.
3. Slack
Emphasizing minimalistic design and user-friendly navigation is their key. Following Slack's lead by using subheadings in interactive knowledge base categories helps users quickly understand what's in each group.
Additionally, Slack excels at offering quick product usage tips at the bottom of the page, eliminating the need to search through numerous articles.
4. Canva
Furthermore, it features links for contacting support at the bottom of its homepage, ensuring customers can swiftly seek assistance when needed.
Additionally, there is a link to Canva's design school for customers interested in exploring the software more deeply.
As customers browse Canva's knowledge base, they will promptly come across a "Top Articles" section, offering them the opportunity to delve deeper into the frequently asked questions posed by fellow customers.
5. Dropbox
It begins with tabs for different content areas, and if those don't suit the user, a prominent search box is available for quick access to relevant information.
As users scroll, they encounter popular topics in larger cards on the left, and a standard FAQ list on the right.
Dropbox tackles all of the various ways that a user might want to navigate a help center.
6. Mailchimp
The Mailchimp knowledge base articles are crucial for training their team and fostering a beloved brand. Their style guide encompasses various writing facets, from social media to technical content and translations.
While Mailchimp is ubiquitous, their tone is adaptable, varying according to the platform they're engaging with.
7. Lyft
The app offers helpful prompts to guide users to relevant information. Prospective drivers can access details on earnings and application requirements, riders can learn how to request a ride, and businesses can find information on setting up an account.
Lyft is known for having one of the best knowledge bases in the rideshare industry.
Lyft's knowledge base articles feature visuals and step-by-step guides, which simplify complex processes compared to sifting through lengthy text.
8. Asana
Whether you prefer reading, visuals, live webinars, or video tutorials, Asana provides various ways for users to learn and succeed.
As soon as you access the Asana knowledge base, you're presented with four learning options to accommodate diverse users.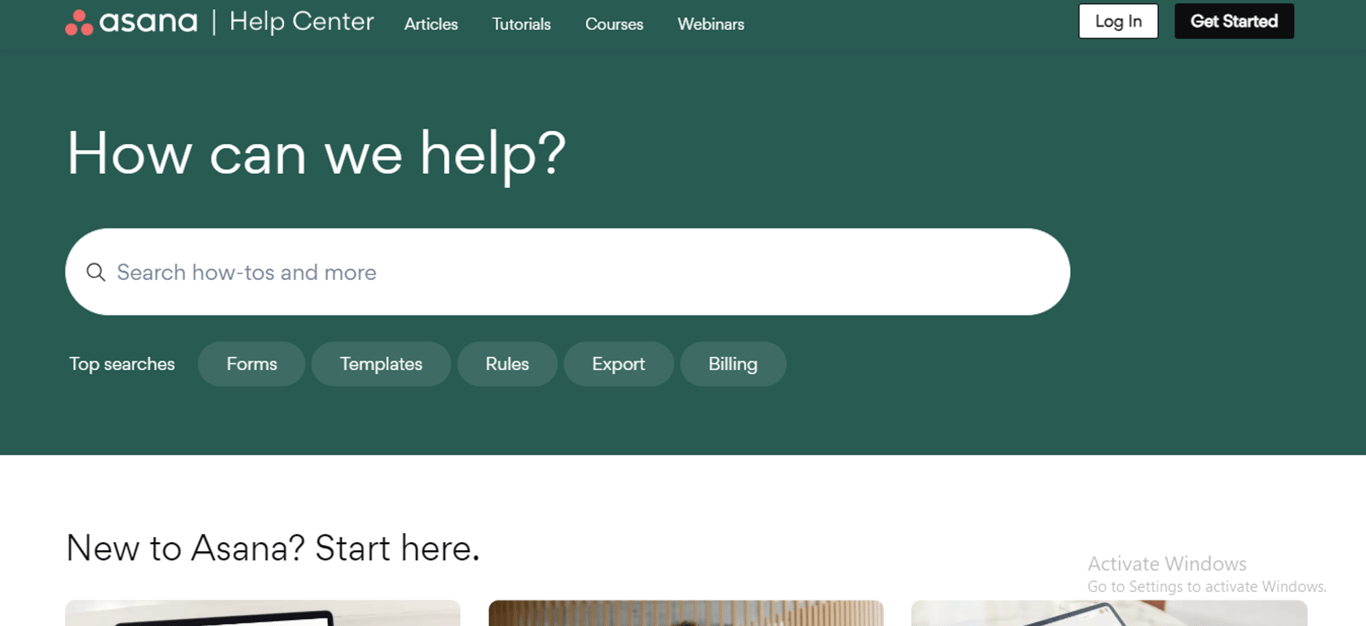 Lastly, you can visit their YouTube page, where they have a rich collection of video how-to content to assist users, which is a favorite option for many.
9. Rail Europe
The app's knowledge base is specifically tailored to address common issues travelers encounter while using trains.
It provides customized content based on the user's location data, making the travel experience much smoother and addressing the unique challenges travelers may face.
Rail Europe's entire knowledge base is designed to tackle common issues that come with train voyages.
10. Releasewire
Once you embark on the journey of building your knowledge base, there are numerous paths it can follow. However, the fundamental goal should be to enrich your end users with valuable education and information.
Furthermore, it goes above and beyond by offering a space for users to enhance their skills and knowledge.
A prime example of this is the section on Press Release writing tips, an indispensable resource for newcomers entering the field to acquire insights on crafting compelling PRs.
11. Yoast
In contrast to typical knowledge bases with a centralized FAQ section, Yoast employs distinct categories for each of its services and functions.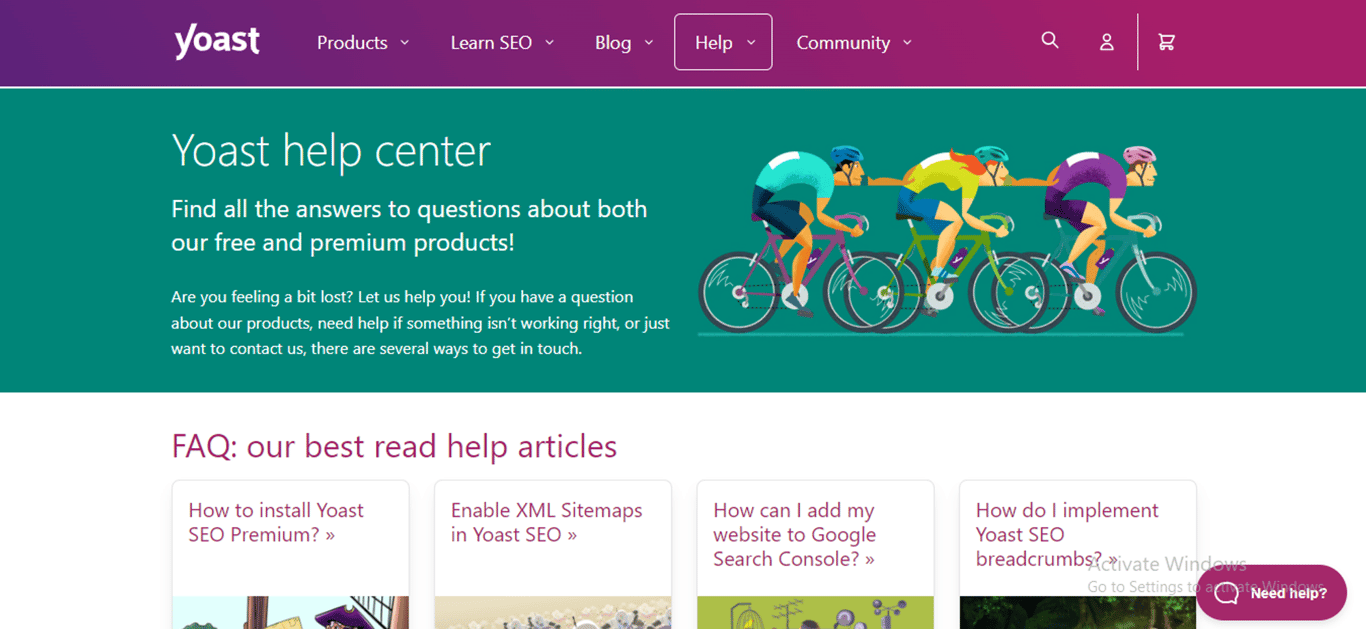 This approach ensures that each service or functionality has its dedicated content, contributing to a user-friendly and seamless experience.
12. Shipt
On the right side, they provide information in a FAQ page style. This comprehensive resource caters to both shippers and shoppers, serving as a convenient one-stop destination for all Shipt users.
Shipt features a user-friendly search bar prominently on its page, making it easy for customers to ask questions without the need to navigate through multiple pages.
13. Shopify
Shopify offers a wide range of navigation options, allowing customers to choose from numerous topics.
They host their knowledge base on a subdomain, but provide multiple links in the main navigation for easy access to their main website and other help pages.
14. Spotify
At the forefront of its knowledge base is a prominent search bar, accompanied by readily accessible top questions within the same section.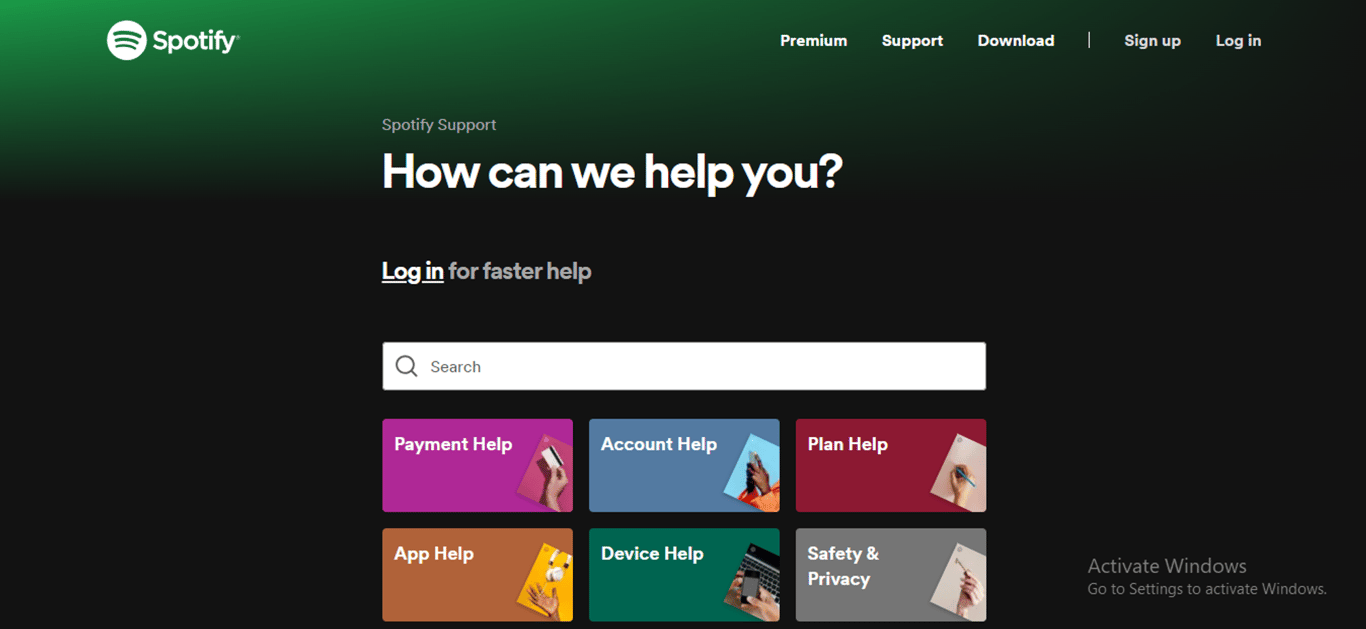 Spotify categorizes questions into easy-to-access sections with links to specific topics, prioritizing mobile users' accessibility. The company tailors its help center to suit its users' preferences based on their knowledge.
15. Instagram
Instagram excels at prioritizing important and recent content at the top, while its user-friendly design helps people quickly find meaningful and valuable content.
This user-friendly approach eliminates the need for endless scrolling and category searching, making it especially accessible for mobile users.
16. HelpScout
This elegantly designed website features a prominent search feature at the top, along with three distinct sections dedicated to its products, each containing topic listings.
By incorporating appropriate icons above each support topic, it simplifies the process for customers to refine their quest for information through visual indicators.
17. OneFile
A top-notch knowledge base is organized, places information effectively, and categorizes it for user convenience.
They prioritize guides and tutorials for new customers at the beginning to simplify onboarding and offer a clear call to action for users to request support if needed.
18. Broadcom
They organize their documentation into user-friendly sections with subcategories for easy navigation to specific answers.
Broadcom enhances its help center by featuring a prominent search box, ensuring users won't get lost even if categories are unclear.
19. Wistia
Additionally, users have the option to peruse articles to gain a deeper understanding of its offerings.
Wistia strategically positions a link to its product changelog right below the search bar, allowing users to easily access and stay informed about product updates.
To enhance visibility, they've added a rocket icon, and clicking on it reveals Wistia's latest updates.
20. Airtable
Airtable's knowledge base features a "What's new" section on its homepage, which enables customers to discover information about recently introduced functionalities.
Get your Knowledge Base shine with these examples
To enhance customer satisfaction and foster long-term loyalty, ensure that your resource center is organized effectively, offers valuable insights, is easy to navigate, and provides abundant information. Empower your customers to learn about common issues at their own convenience, promoting self-assistance.