How to create a documentation page using Notion
A documentation site is just as important as a flashy landing page. It's a way to keep you and your audience on track with what's going on with your product, what the roadmap looks like, to stay updated, and learn how to use the features efficiently.
This doesn't have to be mundane or boring. You can create an interesting and beautiful documentation using only Notion.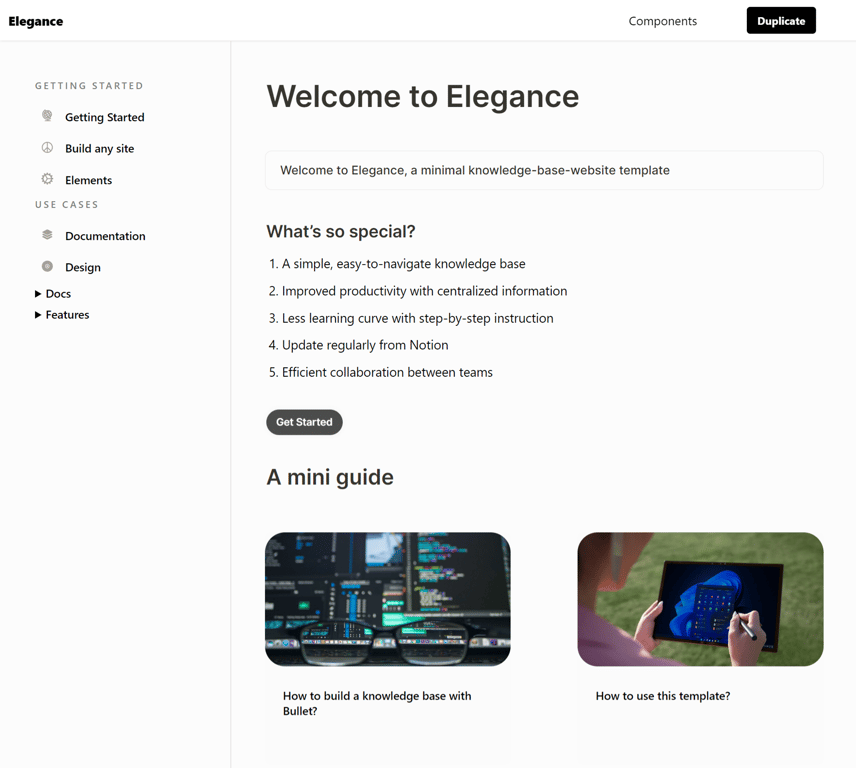 Why should you create your documentation site with Notion and Bullet?
A documentation site is a great way to keep your audience updated and also improve trust by making them feel like they are part of the process. Get it up and running with Notion and Bullet within minutes!
Content lives in Notion You don't have to rely on Bullet or any other website builders or publishing platforms with your content. All your content lives forever in Notion. Easily update and document everything on the go.
Clear and concise It's important to be clear and concise when you document your features, updates or FAQs. From UI to content, everything has to be on point. You can categorize your documentation with Collections, Categories and Sub-categories using Notion.
Beautiful templates Bullet has ready-made documentation templates to make your job easier than ever. Just duplicate a template to your Notion page, add your content and publish it today.
Host your way With Bullet, you can host your documentation site as a domain, sub-domain or subdirectory just the way you prefer. You can link it to your Bullet website or even your existing website.
3 simple steps to publish your documentation site today
Check out these documentation templates