13 Best Documentation software in 2023
Discover the 13 top documentation software tools for 2023 to streamline your documentation needs and enhance productivity.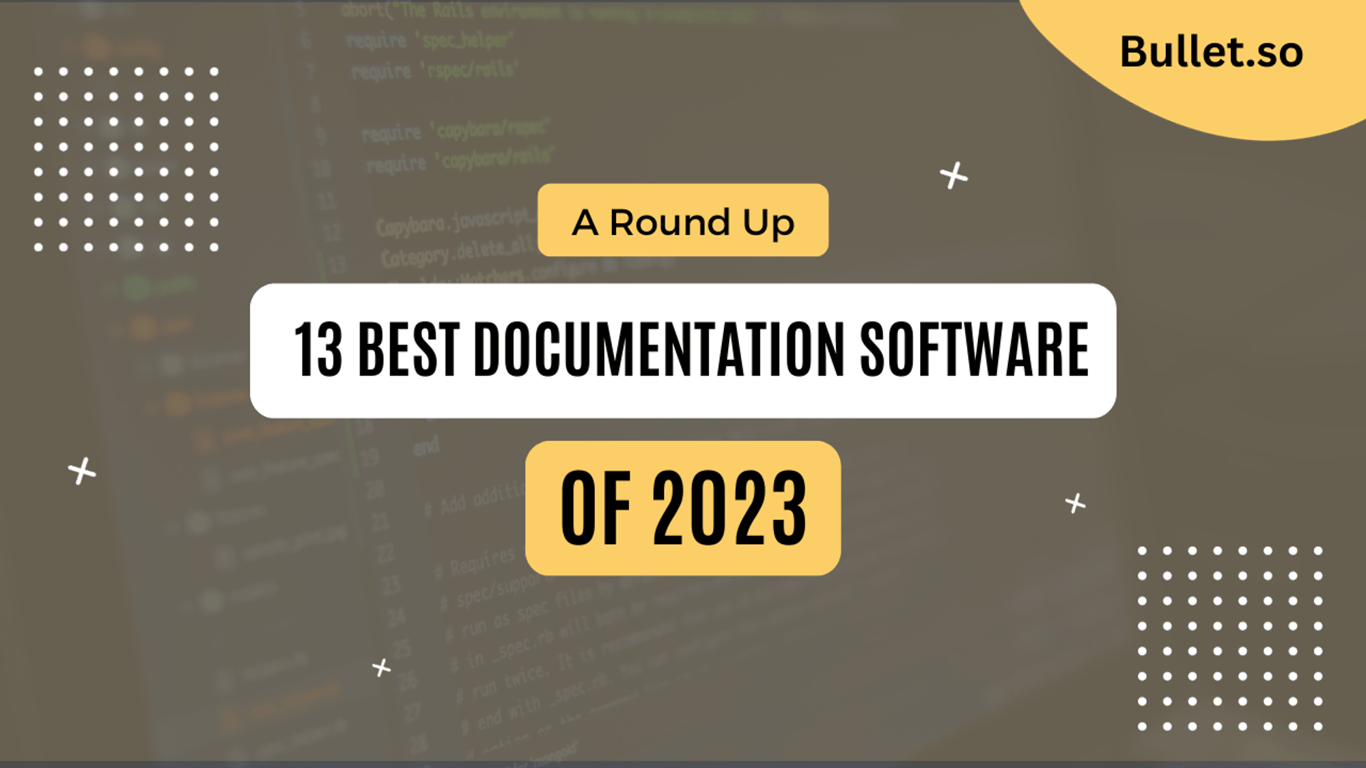 In today's digital age, nobody wants to deal with physical paperwork. Everyone prefers storing content online. Clear and concise documentation is crucial in this rapidly evolving tech age, benefiting both your team and end-users.
According to a 2023 survey by Statista, 62% of sales and marketing departments and 57% of IT departments already use these tools.
This results in documentation tools assisting in creating and managing various types of documentation.
Let's explore the top documentation tools of 2023 to make your software products shine!
What is Documentation?
Documentation
is the process of creating documentation for software, enhancing its user-friendliness and intuitiveness. This document encompasses fundamental information regarding the software's construction, functionality, and other pertinent details.
In software development, documentation plays a crucial role and constitutes a substantial portion of the overall effort. Its primary objective is to furnish users with both technical and functional insights to facilitate effective utilization of the product.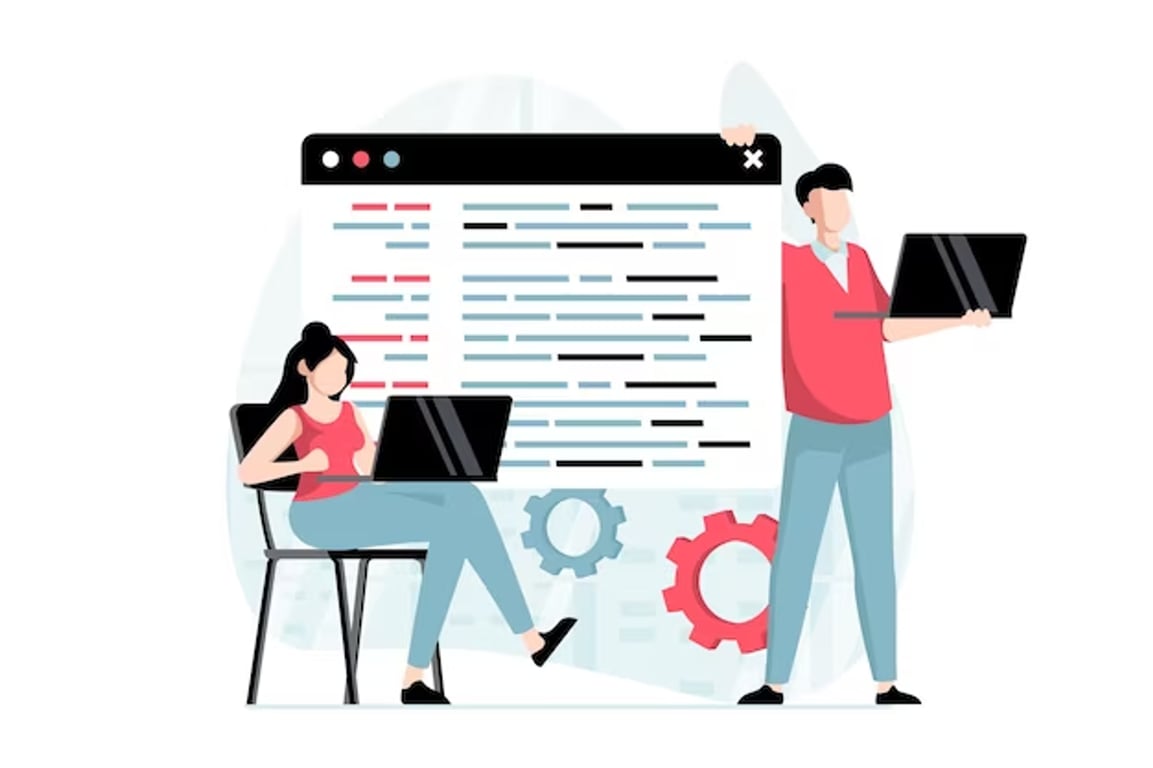 What are the types of Software Documentation tools?
Software Documentation tools falls under two different categories namely:
Designed for Internal Documentation aid developers in keeping a comprehensive record of the codebase, monitoring progress, and facilitating effective collaboration.
Designed for External Documentation - aid in the development of user manuals, tutorials, and API documentation, facilitating effective comprehension and interaction between end-users and the software.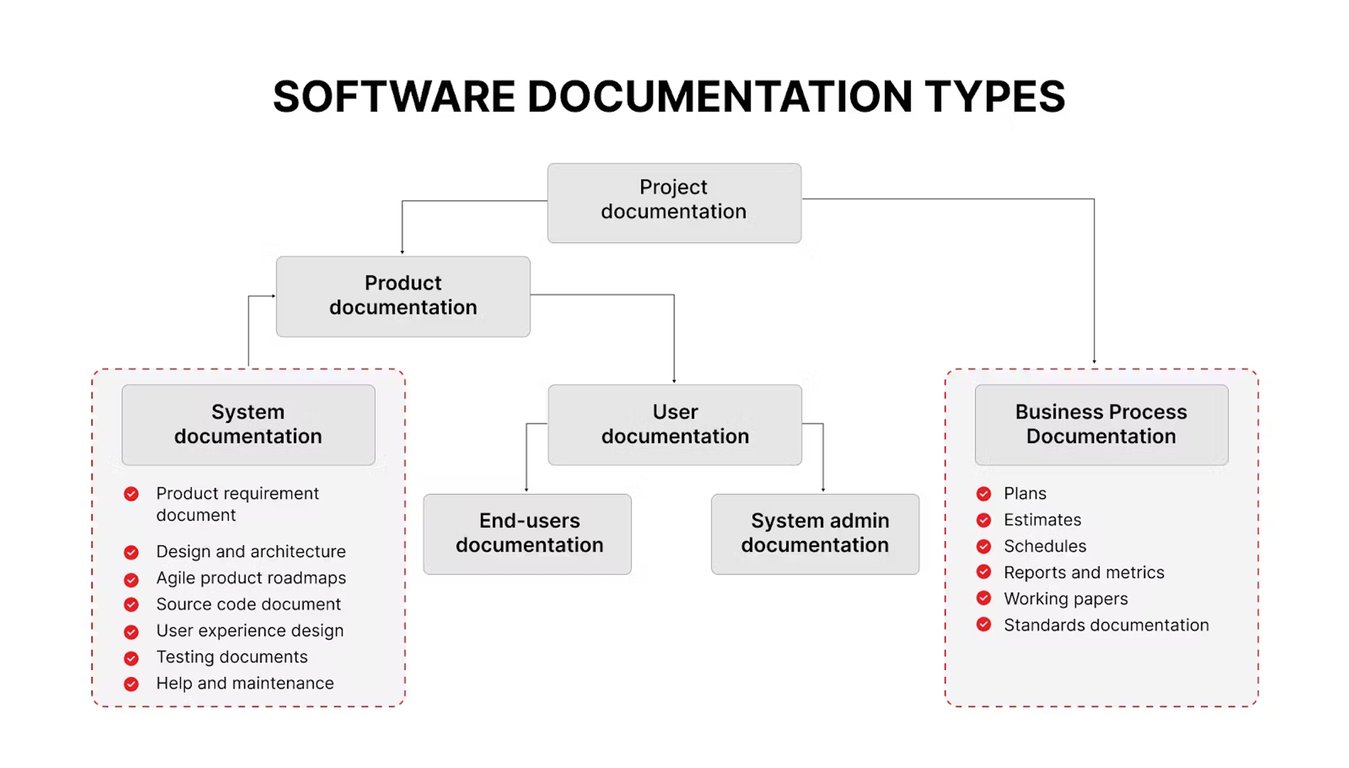 Certain tools address both categories of software documentation, while others focus exclusively on either one. It's crucial to assess your precise requirements before determining the most suitable tool for your project.
13 Best Software Documentation Tools in 2023
Software documentation involves creating and maintaining resources like text, images, videos, or audio for a software application. It serves various audiences, from designers to end-users.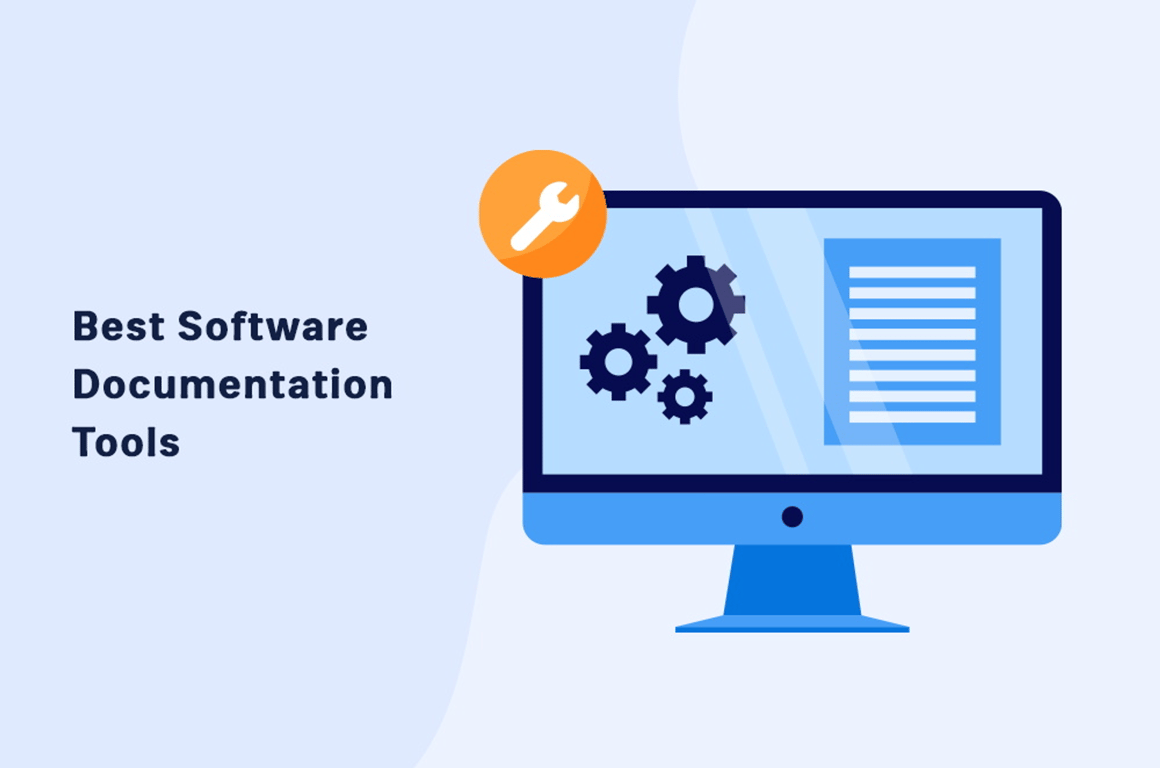 1. Bullet.so
Bullet.so
lets users create and share guides on various topics. Bullet.so is especially build using Notion which is a powerful Content Management System (CMS) which helps to store, organize and retrieve content seamlessly.
Bullet is known for its versality and customization options, which results in easy management process and boosts the productivity of the organization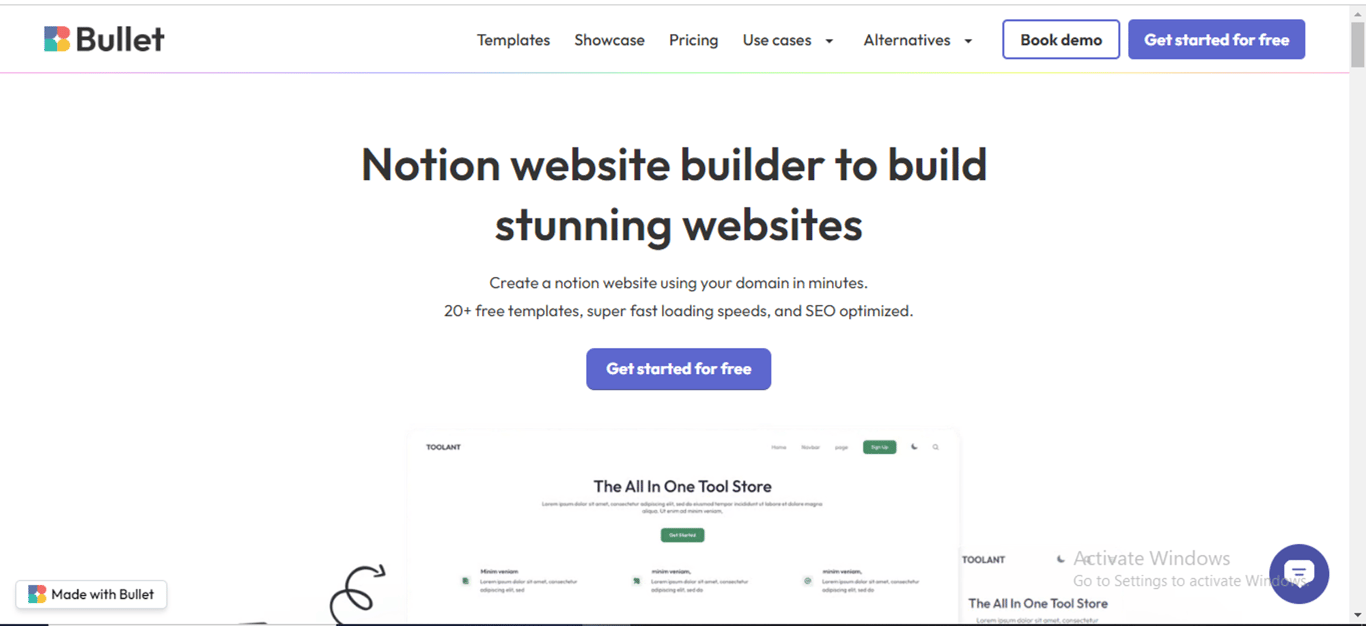 Major Features:
Marketing-friendly Features
Intuitive user interface with a powerful editor
Built-in analytics to track user engagement
2. Notion
Notion is a versatile workspace tool that blends note-taking, project management, and documentation in one platform. With its user-friendly interface, you can create and arrange text, tables, and media effortlessly.
Notion excels in real-time collaboration and offers diverse integrations, making it an ideal choice for teams needing a unified solution for both projects and documentation.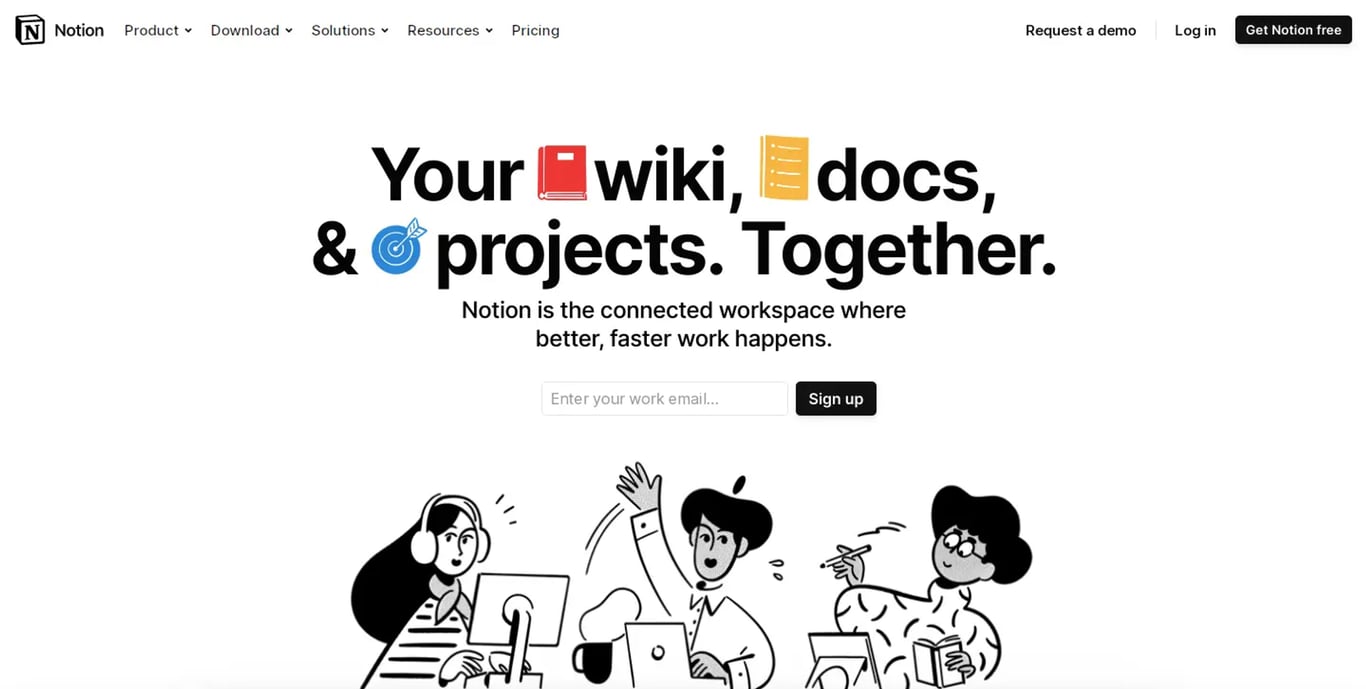 Major Features:
Versatile workspace for notes, projects, and docs
Real-time collaboration with diverse content
Integrates with Slack, Google Calendar, and Trello
3. Confluence
Confluence develops a knowledge base for documentation and product needs, offering advanced search, templates, and Jira integration. With free, standard, and premium plans, it promotes team alignment, enhances productivity, and streamlines data sharing across your organization.
Major Features:
Rich text editor with diverse formatting options.
Seamless integration with Atlassian products like Jira and Bitbucket.
Supports real-time collaboration and version control capabilities.
4.GitHub Pages
GitHub Pages, an offering from GitHub, serves as both a documentation tool and a code hosting platform. It enables developers to craft and host project documentation using Markdown.
This is especially advantageous for software development teams already utilizing GitHub, with added features like custom domains, SSL, and customizable Jekyll themes for flexibility.
Major Features:
Markdown compatibility for effortless document creation
Option for custom domains, SSL, and themes based on Jekyll
Seamless project management through GitHub integration
5. Document 360
Document360 is an innovative documentation tool designed to assist companies throughout the software development process. It supports projects from conception to deployment, facilitating process and workflow management, and ensuring transparency within the team.
Major Features:
Provides a robust search feature
Ensures data protection with backup and restore capabilities
User-friendly content creation with WYSIWYG editor or markdown support
6. Nuclino
Nuclino is a user-friendly documentation tool designed for small to medium-sized teams. With its simple interface, real-time collaboration, and unique graph view, it offers an intuitive way to manage and navigate complex projects.
Major Features:
Seamless real-time collaboration and an easy-to-use interface
Visualize your documentation structure with a graph view
Ability to handle diverse content types, such as text, images, and videos
7. ProProfs
ProProfs is a versatile documentation tool for crafting knowledge bases, user manuals, and help guides. Its user-friendly editor, customizable templates, and analytics empower teams to create polished documentation without technical skills. With robust search and collaboration features, it's an ideal choice for support teams and technical writers.
Major Features:
Customize templates with a user-friendly editor.
Utilize built-in analytics for monitoring user engagement.
Benefit from potent search capabilities and collaborative tools.
8. Docusaurus
Docusaurus, crafted by Facebook, is a static site generator tailored for open-source project documentation. It supports Markdown and comes with useful features like versioning, search, and localization. It's easy setup and customizable themes make it a favoured tool for developers aiming to build sleek, responsive documentation sites.
Major Features:
Enable Markdown for seamless content creation
Incorporate built-in version control, search, and localization capabilities
Personalize themes to achieve a distinct documentation site appearance
9. Clickhelp
ClickHelp, a cloud-based tool, aids businesses in crafting, managing, and publishing online help desk content.  This helps to customize the reader experience with UI templates, visual settings, and CSS.
It enables effortless creation and sharing of step-by-step guides, empowering businesses and individuals to provide customers with helpful 'how-to' instructions.
Major Features:
Enables multiple authors to collaborate simultaneously.
Supports single-source documentation with versatile publishing options.
Offers customization for branding, layout, and style.
10. GoogleDocs
Google Docs enables users to generate, modify, distribute, and work together on documents in a live, web-based environment, accessible from any device. It stands as a robust and cooperative documentation platform with an extensive array of capabilities, and it enjoys extensive adoption by individuals, teams, and organizations across the world.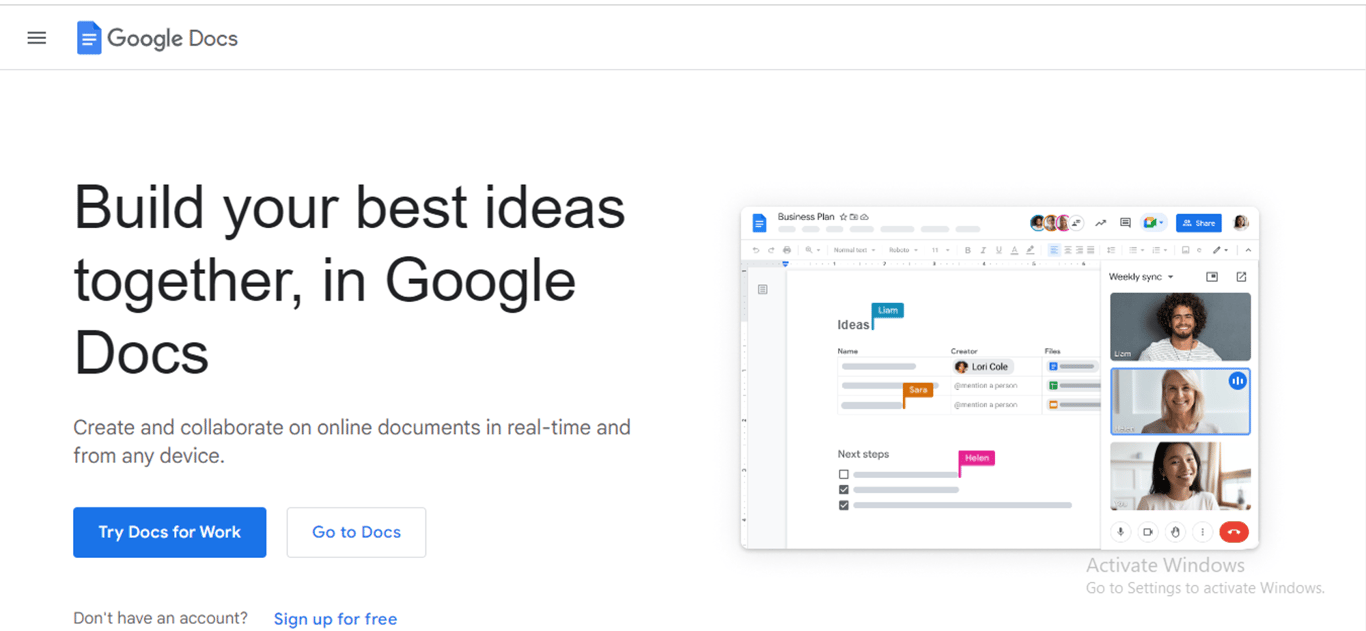 Major Features:
User-friendly interface for effortless navigation.
Enables real-time collaboration, allowing multiple users to edit a document together.
Automatically saves changes and revisions, ensuring easy tracking of document history.
11. Whatfix
Whatfix stands out as an interactive documentation tool, focusing on crafting step-by-step guides and tutorials. It's standout capability lies in crafting in-app walkthroughs, which seamlessly lead users through software processes. This makes Whatfix an ideal pick for teams aiming to enhance user onboarding and support.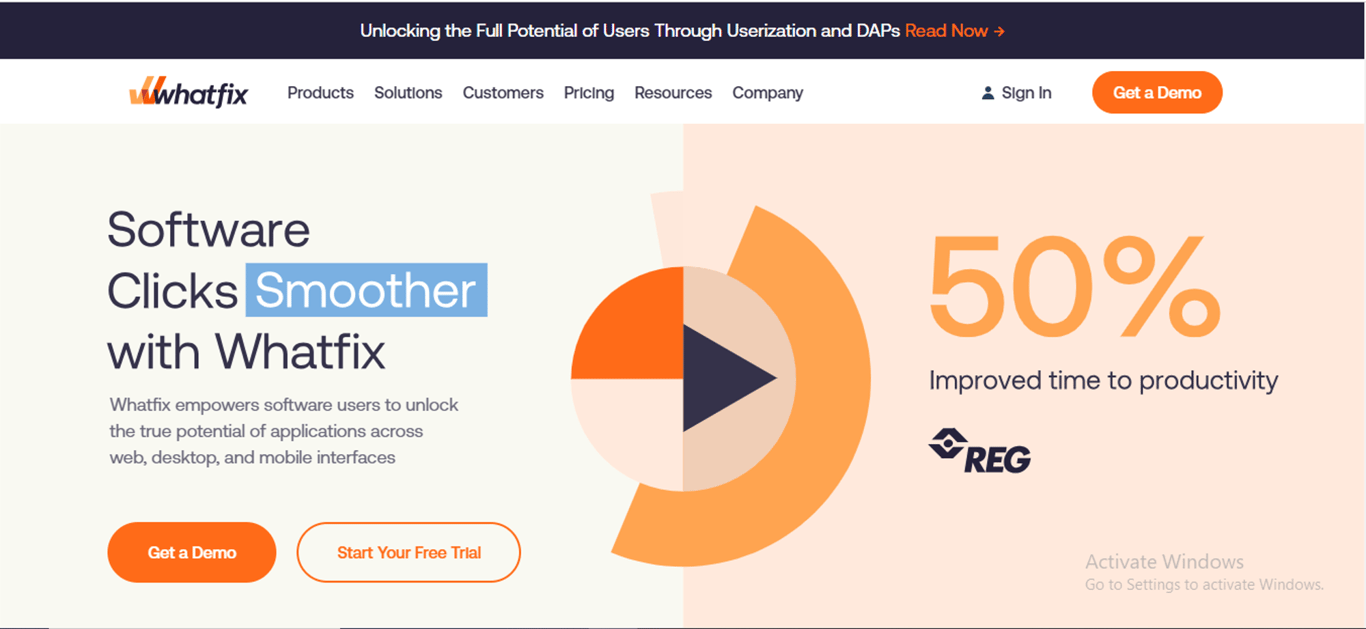 Major Features:
Guided user experiences through in-app walkthroughs
Comprehensive step-by-step guides and tutorials
Analytics for monitoring user engagement and performance
12. Tettra
Tettra is a user-friendly documentation tool designed for software developers, enabling effortless creation and updates. It's versatile for both technical and non-technical content, requiring no programming background.
Tettra excels in building technical and marketing docs, boasting an intuitive interface. It's an excellent choice for technical writers, developers, and editors seeking a tool for clear, top-notch tech documentation and seamless team communication.
Major Features:
Tettra facilitates team collaboration on internal documentation.
Multiple team members can work on the same document.
Offers customizable templates and structured organization for documentation.
Integrates seamlessly with popular tools like Slack, Google Drive, and Trello.
13. Bit.ai
Bit.ai is a contemporary documentation tool with robust editing capabilities, an intuitive interface, smart search, version control, and seamless teamwork features. It seamlessly integrates with popular apps to enhance your workflow. Great for teams of any size.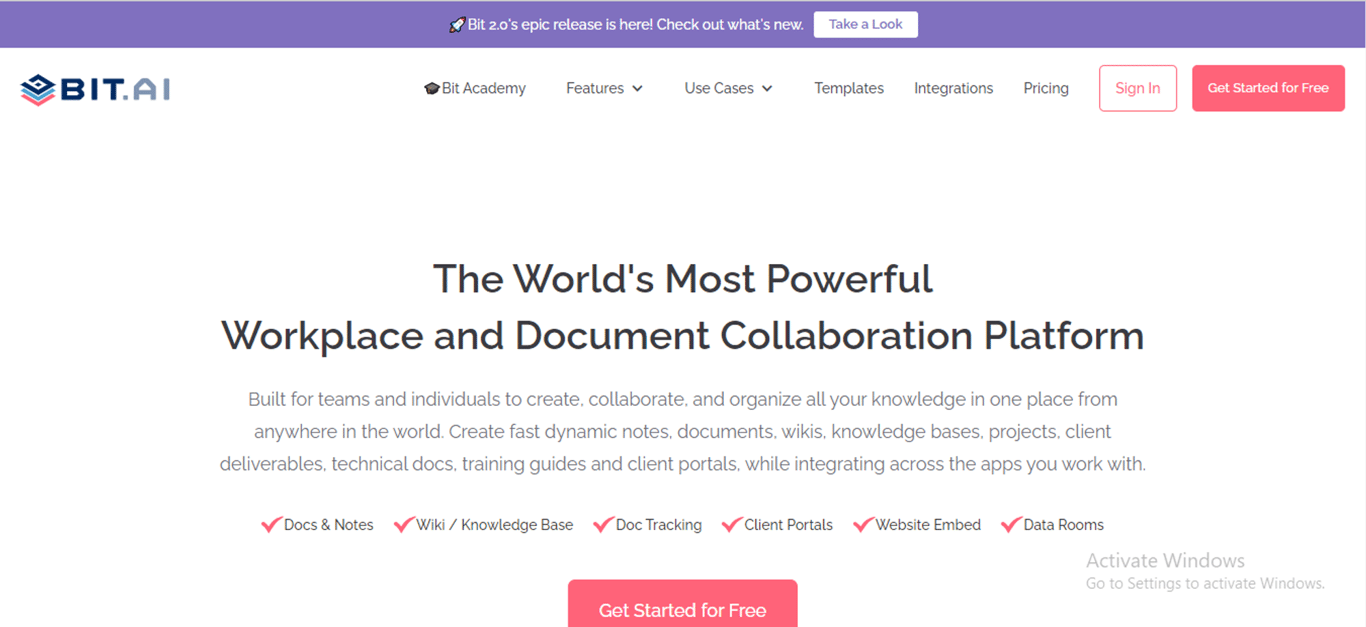 Major Features:
Collaborate in real-time and manage document versions seamlessly.
Utilize smart search features for rapid document retrieval.
Seamlessly integrate with popular applications such as Slack, Google Drive, and Trello.
Conclusion
When selecting software documentation tools, numerous factors need consideration. This article explores the top 13 choices for crafting efficient and effective software documentation.
Whether you're a novice or an expert, these tools can assist in creating excellent documentation for both clients and customers. Make use of free trials to test before purchasing. We hope you find this post valuable.