How Bullet helped Alex Koh focus on sharing his ideas to the world.
Explore how engineer and stock market analyst Alex Koh optimized his content creation process using Bullet.so. Learn how he transitioned from WordPress to Bullet.so to streamline publishing, simplify SEO, and increase content output, focusing on ideas rather than technicalities.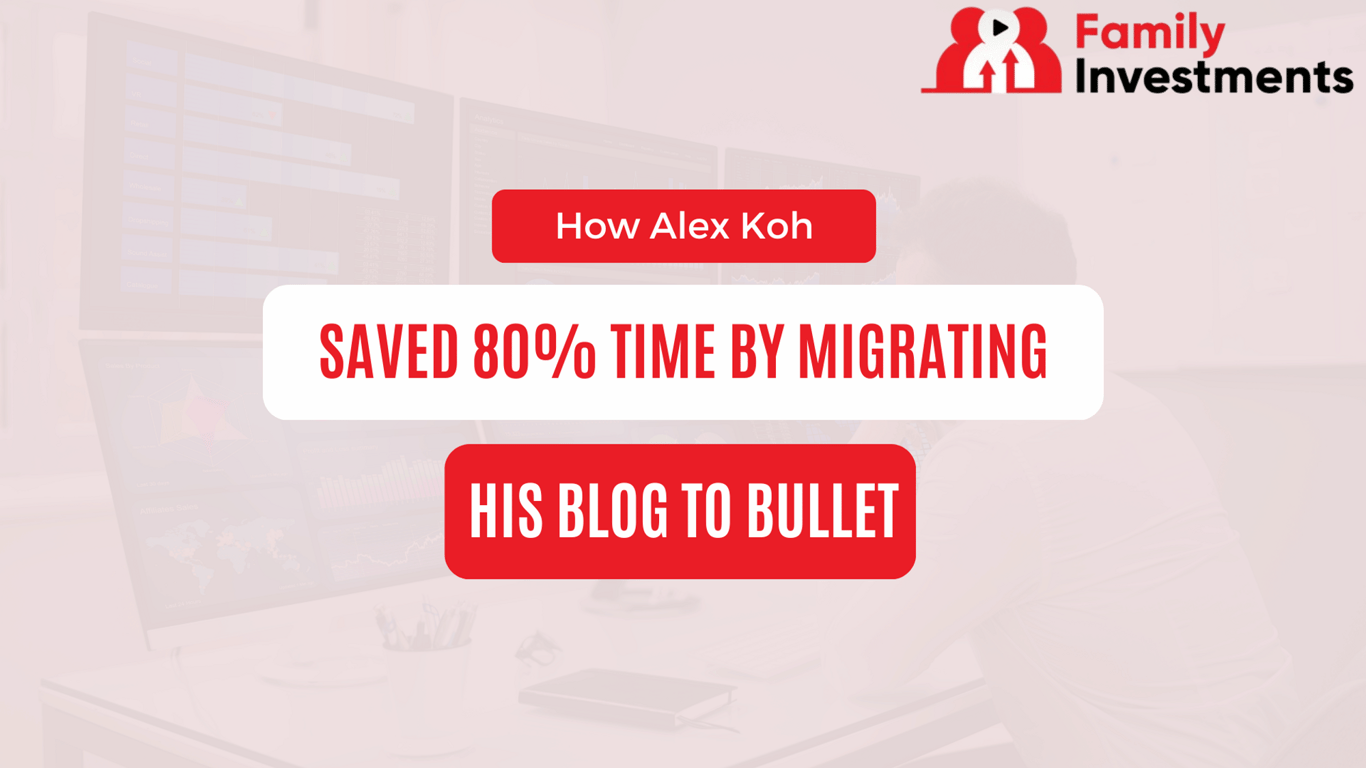 About Alex Koh:
Alex Koh, an engineer balances his professional role with a side hustle as a stock market analyst. Alex wanted to improve his efficiency and a seamless content delivery platform to overcome the challenges posed by Wordpress.
Formating, Publishing, Setting up SEO takes up so much time in WordPress and there are Hidden costs. I Just want to put out content and tell the world about my ideas.
- Alex Koh, Founder@FamilyInvestments.
The Challenge:
Time-Consuming Maintenance: The reliance on WordPress demanded substantial time and effort in terms of maintenance and updates.
Cumbersome Publishing: The process of publishing content required multiple tools alongside WordPress and the formatting was a headache, taking up valuable time and resources.
SEO Complexity: Setting up and optimizing SEO for each piece of content added another layer of complexity while using WordPress.
Design Challenges: Frequent template updates in WordPress necessitated redundant UI/UX work, diverting focus from content creation.
Simplicity Desired: Alex yearned for a streamlined platform that allowed him to focus on content creation rather than intricate technicalities.
The Solution:
Streamlined Content Publication: Bullet.so eliminated the need for multiple tools, streamlining the content publishing process directly from Notion.
SEO Simplification: The platform's in-built SEO features and optimization provided a hand-off approach and saved valuable time.
Effortless UI/UX: Bullet.so's templates reduced design-related stress, allowing Alex to concentrate on generating ideas and content.
Bullet is a really quick blogging website. It's really fast and way cheaper than WordPress. You can do it all yourself.
- Alex Koh, Founder@FamilyInvestments.
Results:
Time Savings: By adopting Bullet.so, Alex saved significant time almost an hour per blog previously spent on formatting and numerous hours from maintenance.
Increased Output: Bullet.so's simplicity and efficiency helped Alex increase his content output, enabling him to share his ideas more effectively.
Ease of Use: Alex could seamlessly post blogs even while commuting by leveraging Notion and Bullet.so's easy accessibility.
Conclusion:
Alex Koh's journey exemplifies how
Bullet.so
transformed his content creation process.
By providing a user-friendly, efficient, and cost-effective solution,
Bullet.so
empowered Alex to focus on what matters most – his ideas and content creation.