Best No-code blogging platforms of 2023
Create stunning blogs without any coding knowledge. Explore user-friendly tools for effortless content creation and website management.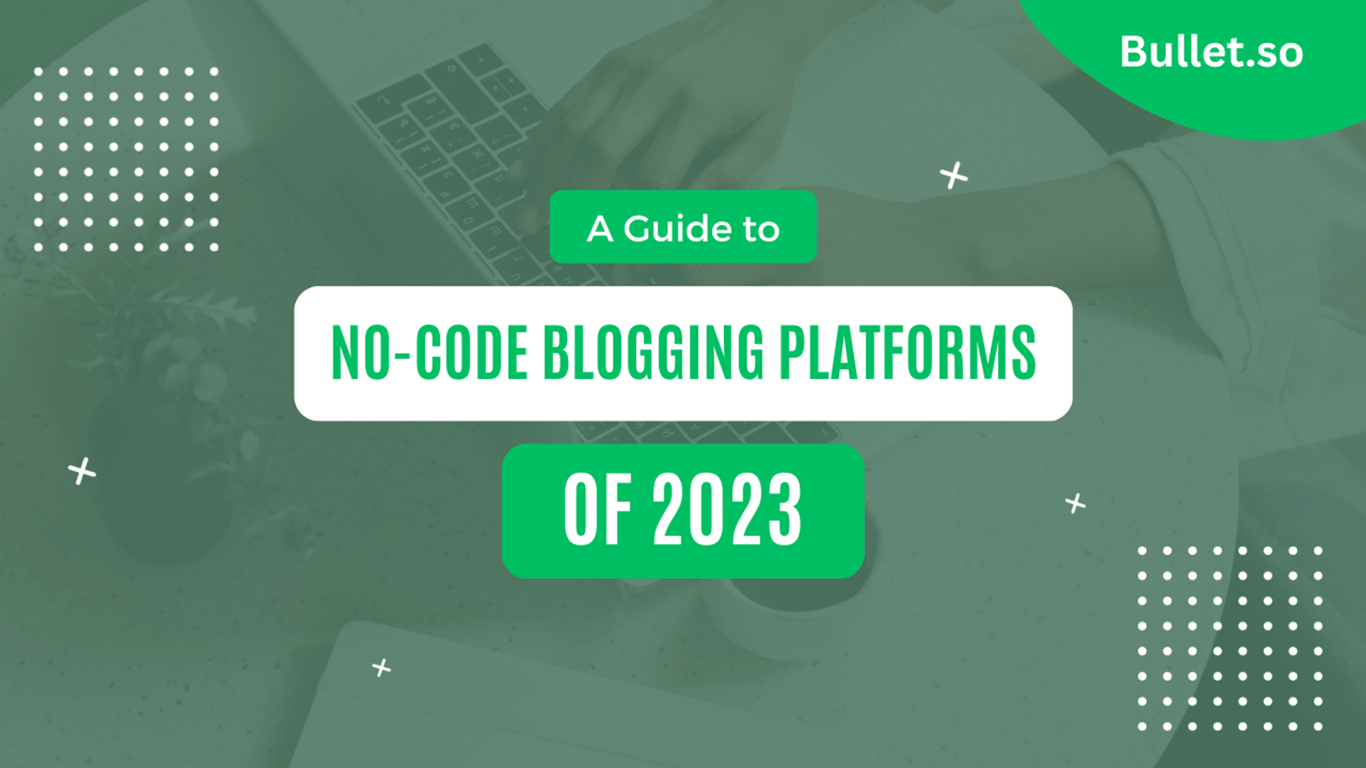 Previously, proficiency in coding was a requirement for effectively creating websites or applications. However, those times are now a distant memory, all thanks to the emergence of no-code development tools.
Moreover, No-code solution has the potential reduce the development time by 90%
Companies have recognized that not everyone has the time or motivation to learn HTML and CSS. So, they've developed user-friendly tools with a graphical interface for creating blogs and content effortlessly. These tools automatically generate the necessary code in the background, allowing you to create professional blogs without any web development expertise.
If you're interested in developing a blog platform without any coding knowledge, I've listed some no-code blogging tools below for your convenience. Enjoy!
Who ought to use no-code creation tool?
The answer is simple: everyone.
If you lack experience in writing code or developing applications, there's no need to worry.
No-code tools offer users intuitive interfaces that remove the necessity for a skilled programmer.
Maybe you're interested in launching a personal website but find the layout process intimidating. No worries, there's a no-code solution for that.
By utilizing these tools, you can take control of website or app creation, regardless of whether you have coding knowledge or not.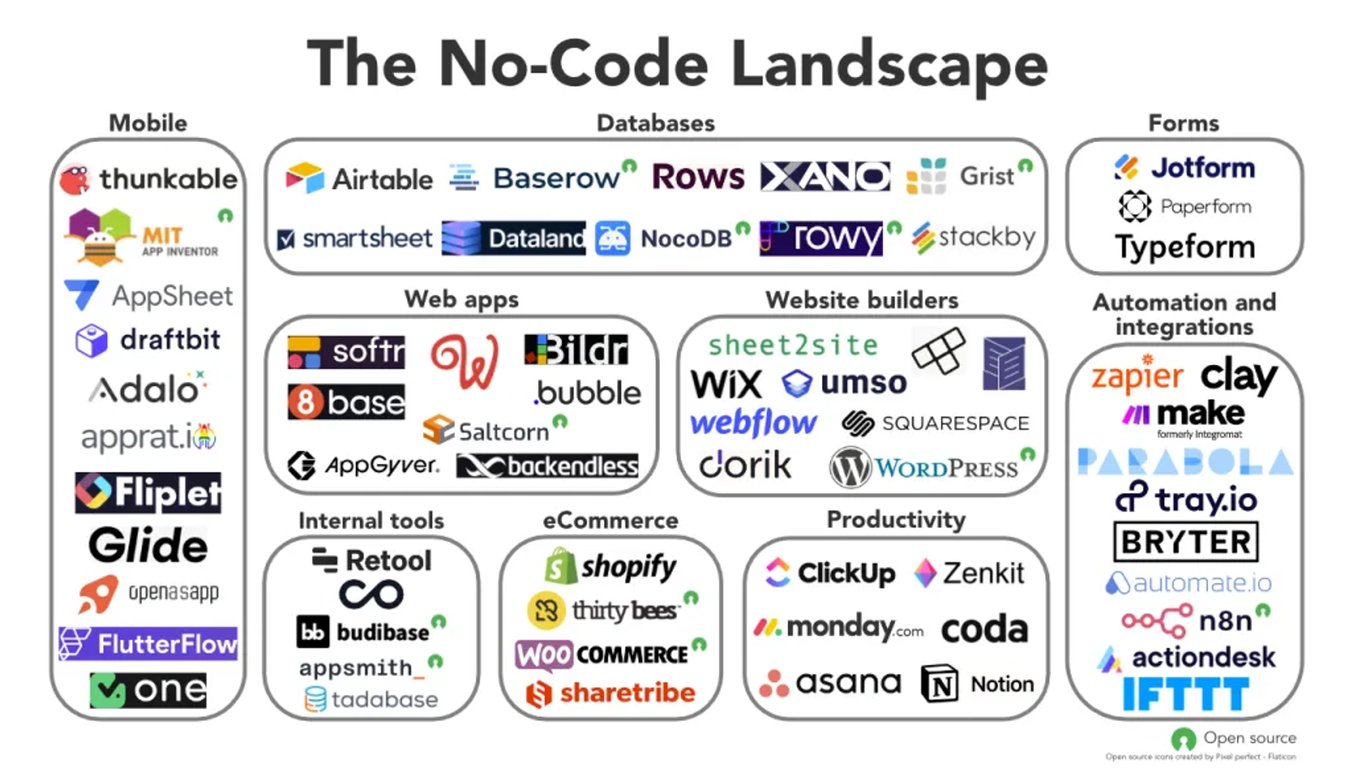 Even if you're well-versed in coding, these tools can assist you in automating time-consuming tasks that can otherwise slow down your daily work routine.
Top picks of no-code blogging platforms
Nowadays, there are user-friendly tools available that don't require HTML coding skills to create a complete blog. These tools offer essential features like blog navigation, individual pages, and the option to add features like comment threads. They primarily utilize drag-and-drop functionality, making them accessible to everyone. Here, we've picked three popular no-code blogging tools for you.
1. Bullet.so
Bullet
is ideal for those seeking simplicity and effortless blog post creation using Notion. It offers a robust console and a feature-rich text editor that grants full control over your posts. Additionally, it automatically generates underlying code while allowing for the inclusion of custom code snippets when necessary.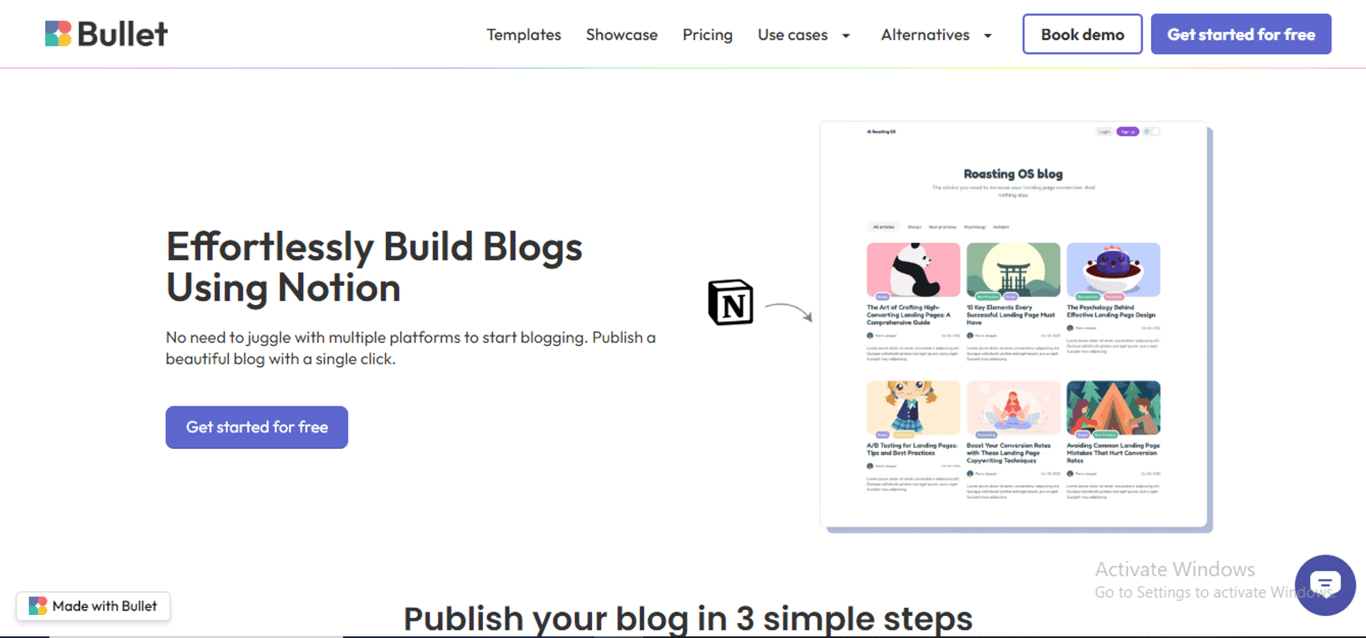 Furthermore, the built-in SEO tools are convenient, enabling the easy generation of META tags, social media tags, and sitemaps to enhance Google rankings. Lastly, for blogging teams with diverse roles, you can invite members, grant access, and assign up to six distinct roles like administrator, editor, and writer.
2. WordPress
WordPress
boasts a substantial following and a massive user base. It offers a user-friendly, no-code interface for individuals without web development expertise.
WordPress blogs enjoy access to a vast array of widgets and plugins that can expand content capabilities, including features like comment threads, social media sharing buttons, and interactive image galleries.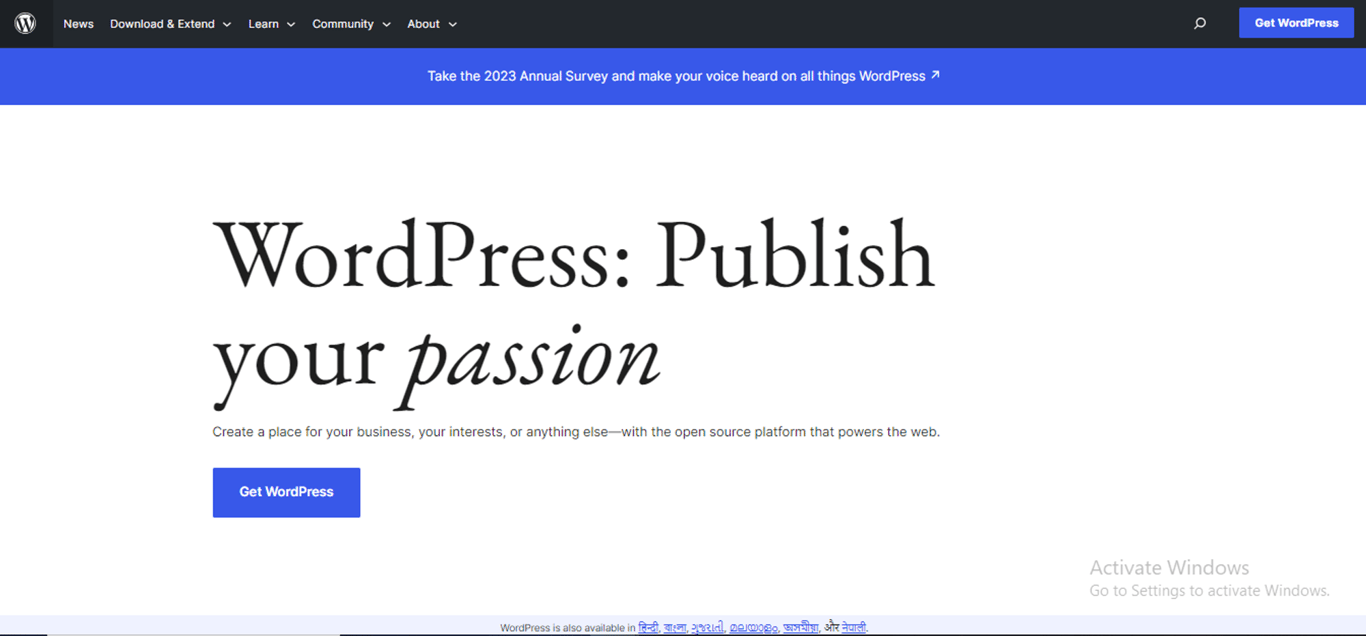 With WordPress, you can opt for plans that include hosting and web domains, or you can simply use the platform and secure your hosting and URL separately, providing excellent flexibility.
3. Wix
Wix
stands out as a leading no-code solution for building blog websites in the current market. It provides a user-friendly interface, adaptable templates, robust SEO features, and an extensive App Market boasting over 500 applications to enhance your website with functionalities such as contact forms and eCommerce stores.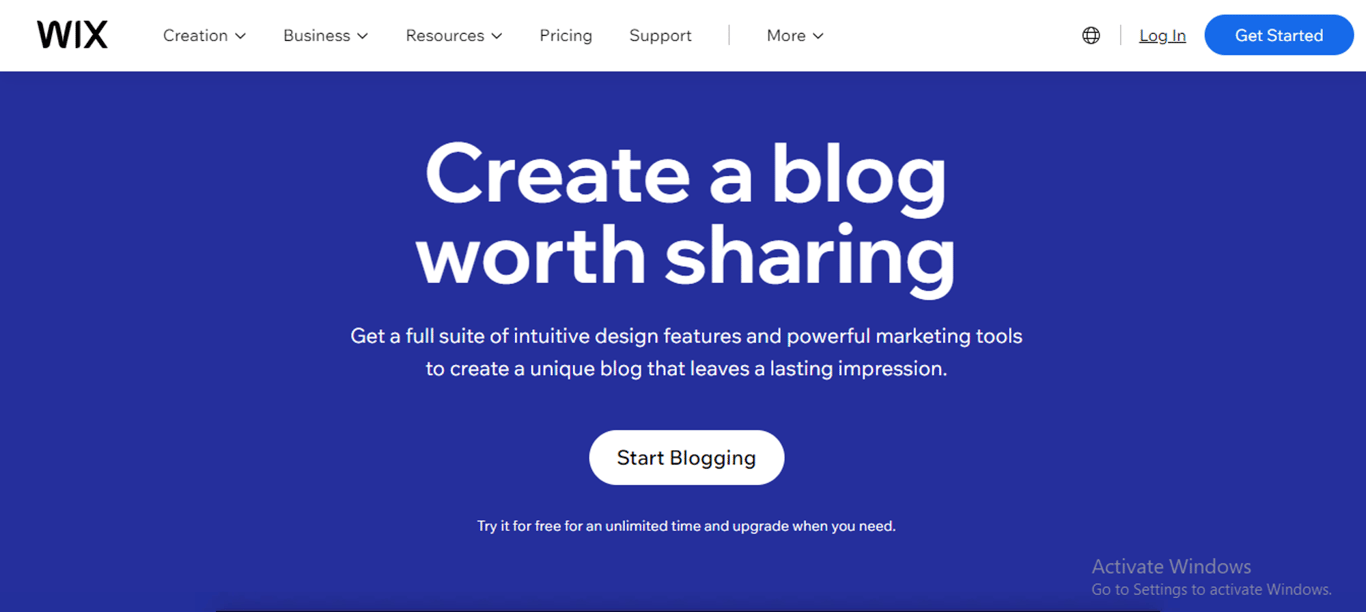 Using Wix, there's no need to be concerned about coding; simply select your template, make customizations with ease using drag-and-drop elements, and swiftly launch your website.
4. Squarespace
Squarespace
offers a straightforward, drag-and-drop interface and pre-made designs that allow people with no coding background to create attractive websites quickly.
This user-friendly platform is ideal for individuals seeking to build their blog platform presence without the need for technical expertise.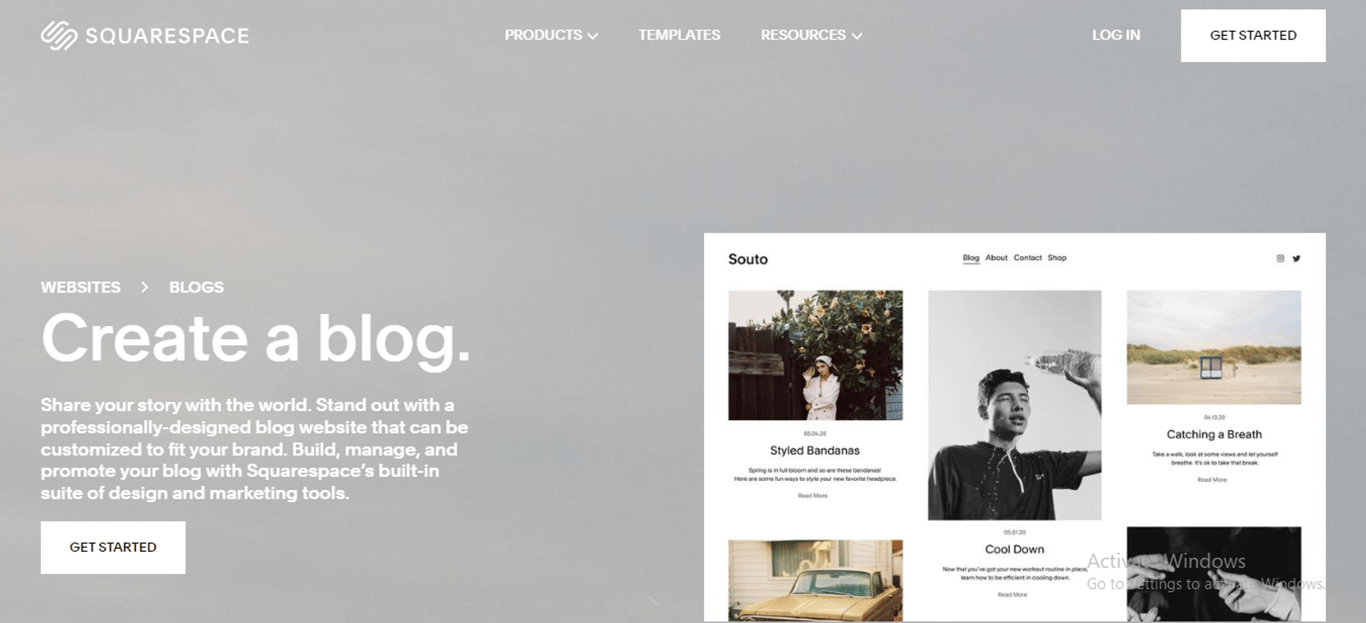 Furthermore, Squarespace seamlessly integrates with third-party services such as MailChimp and Google Analytics. This integration enables users to harness advanced features, including the ability to launch email marketing campaigns and track visitor behavior on their websites.
5. Ghost
Ghost
, a blogging platform established in 2013 after a successful Kickstarter campaign, prioritizes simplicity for bloggers and journalists. It's like a more vibrant WordPress, designed exclusively for professional publishing.
Unlike WordPress, Ghost focuses on delivering an exceptional publishing experience and includes tools like a rich editor and audience-building features without requiring additional plugins.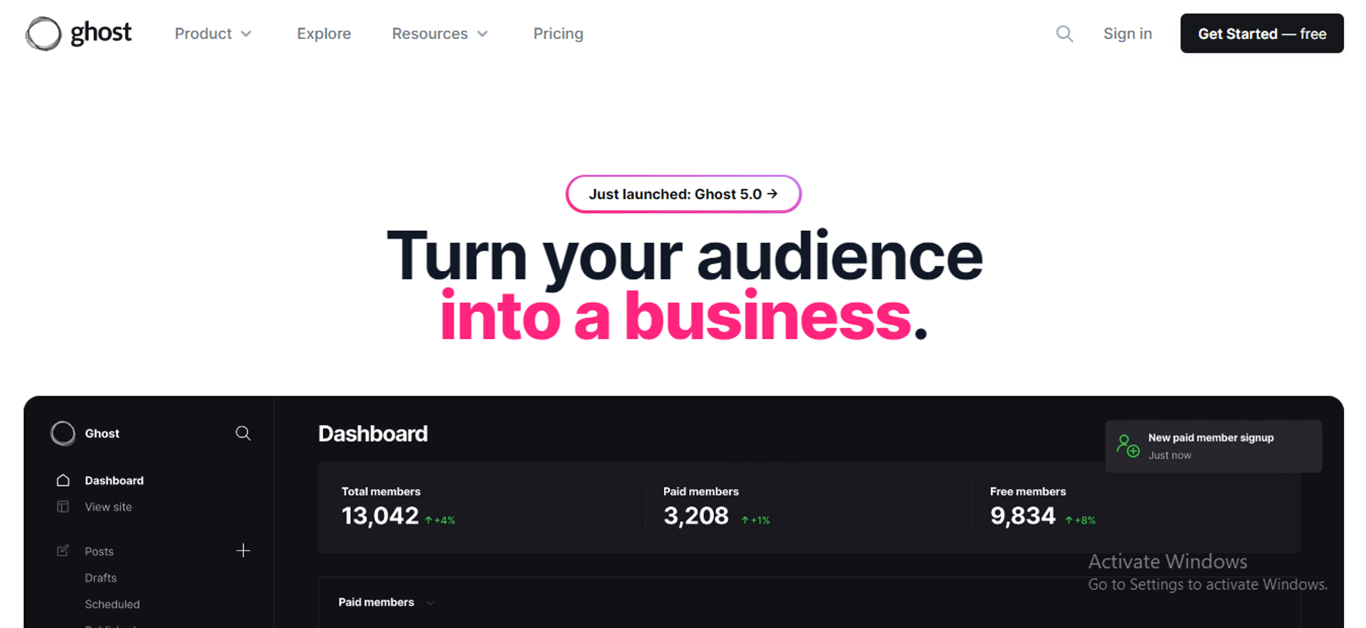 Ghost is also significantly faster, claiming to be up to 1,900% faster than WordPress, and has gained popularity with over 2.5 million users.
6. Weebly
Weebly
, owned by Square, is a robust free website builder and eCommerce platform. Founded in 2007, it powers over 50 million websites. Weebly offers an easy-to-use front-end builder with a vast selection of customizable themes.
Even beginners can create a blog effortlessly, incorporating impressive effects like Parallax scrolling without any coding.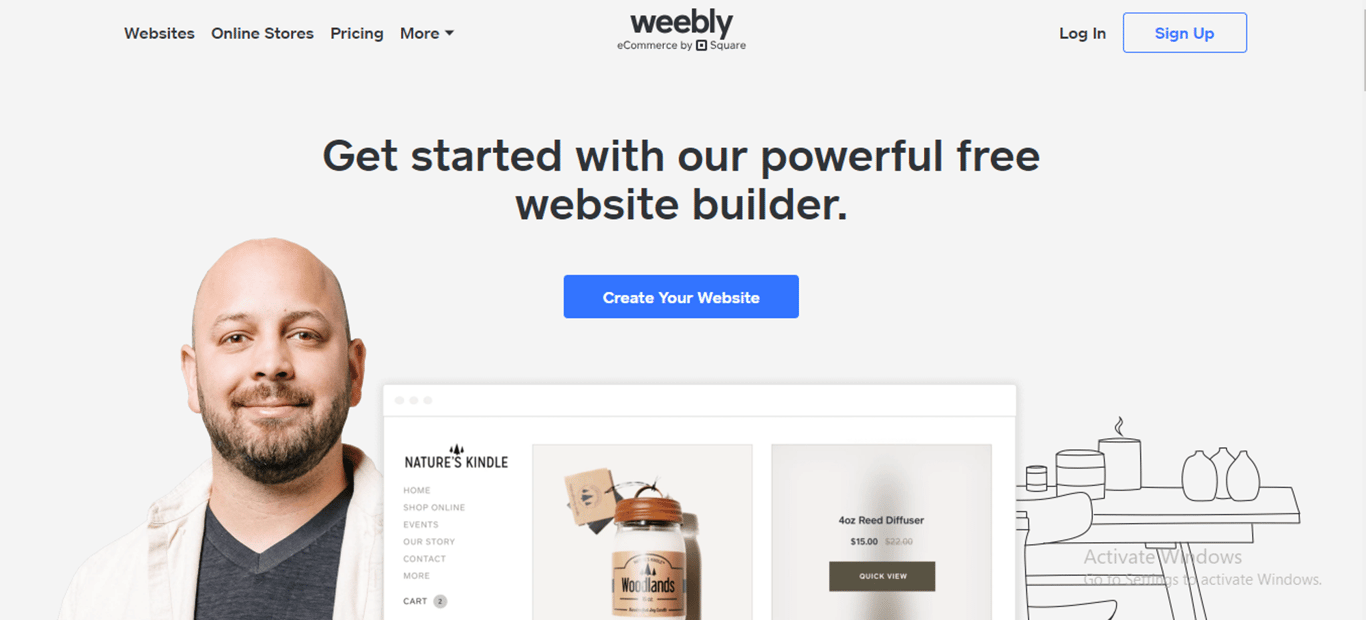 You can utilize their blog feature and free templates for design. Weebly's blogging platform also provides tools for marketing, including newsletter building, social media promotion, SEO optimization, and more.
7. Medium
Medium
is a platform between a blogging and social media. It's easy for writers to share their work with a large audience without needing their own website. You create a page on Medium and start writing. It's simple because you're using an existing site with a big reader base.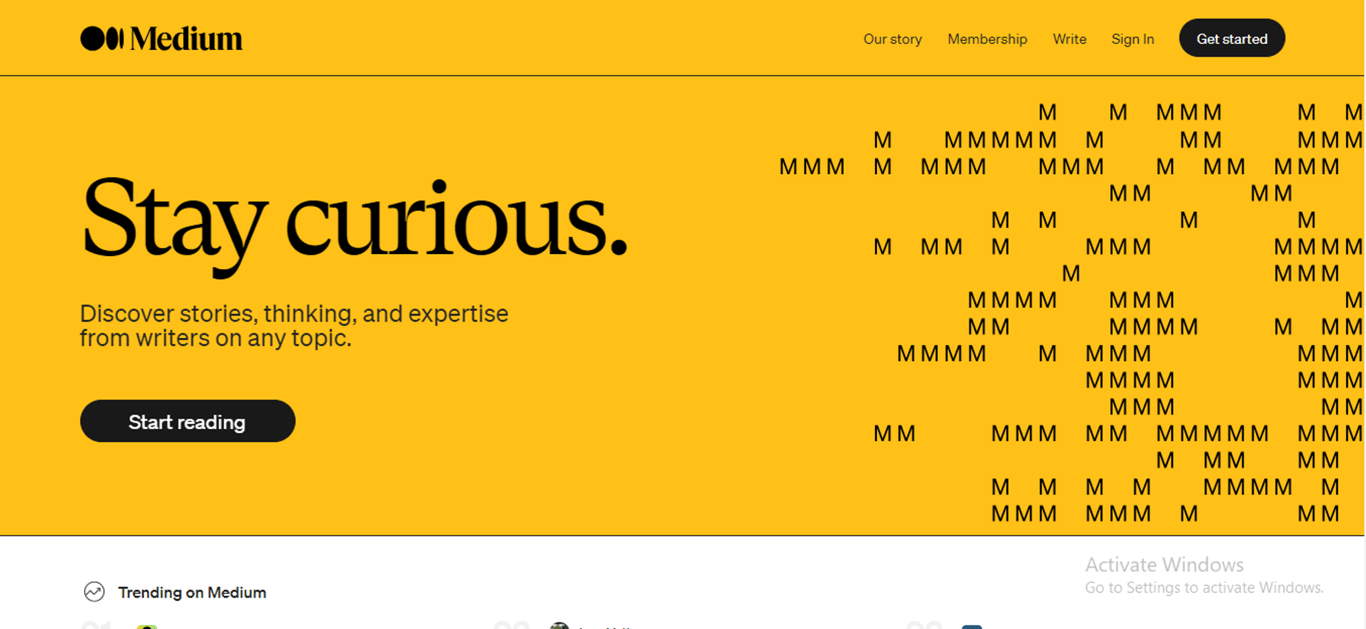 However, you won't have full control or the same monetization options as your own site. Still, you can earn through the Medium Partner Program based on article engagement. If you create a highly shareable post, you can make a good income.
8. Blogger
Blogger
, an early no-code blogging tool, remains popular. It allows easy creation of full-featured blogs with media and comment feeds. Initially private, it's now owned by Google, receiving regular updates and support.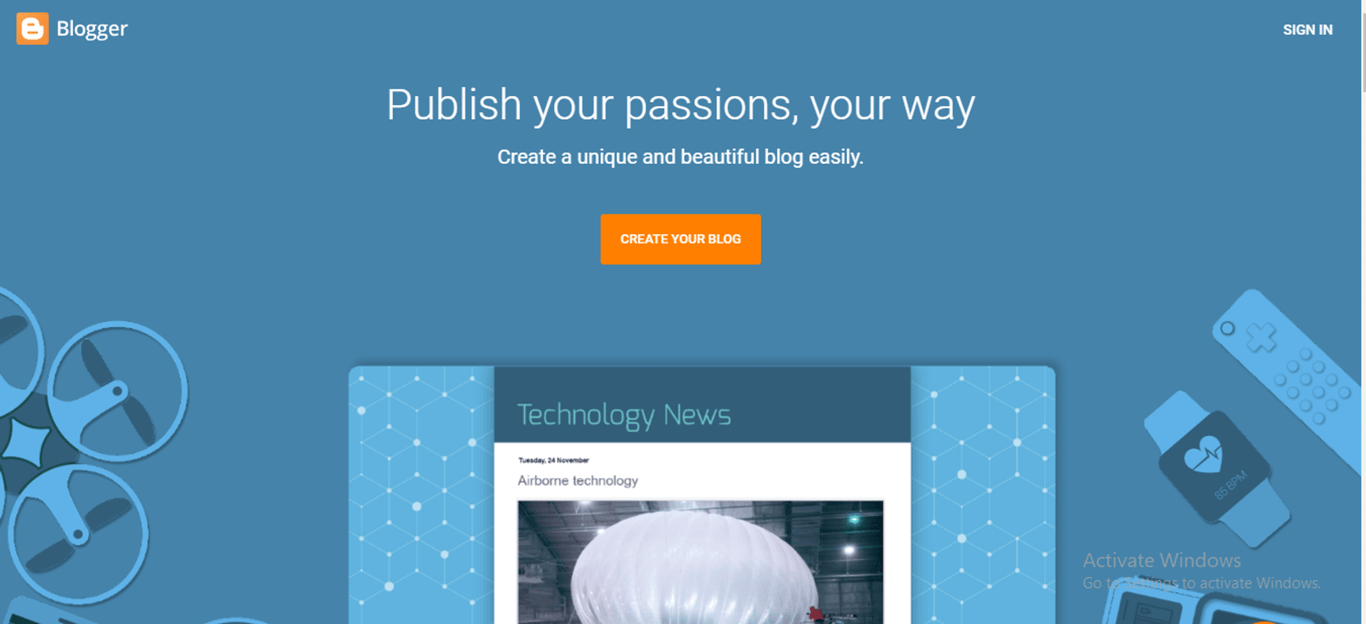 It's free, known for its user-friendliness, and seamlessly integrates with other Google services using your Google account.
9. HubSpot CMS
If your goal is to operate your blog as a business,
HubSpot CMS
stands out as one of the preferred blogging platforms. HubSpot CMS seamlessly integrates with the HubSpot CRM, enabling you to efficiently handle leads and customers while also enhancing your email marketing endeavors.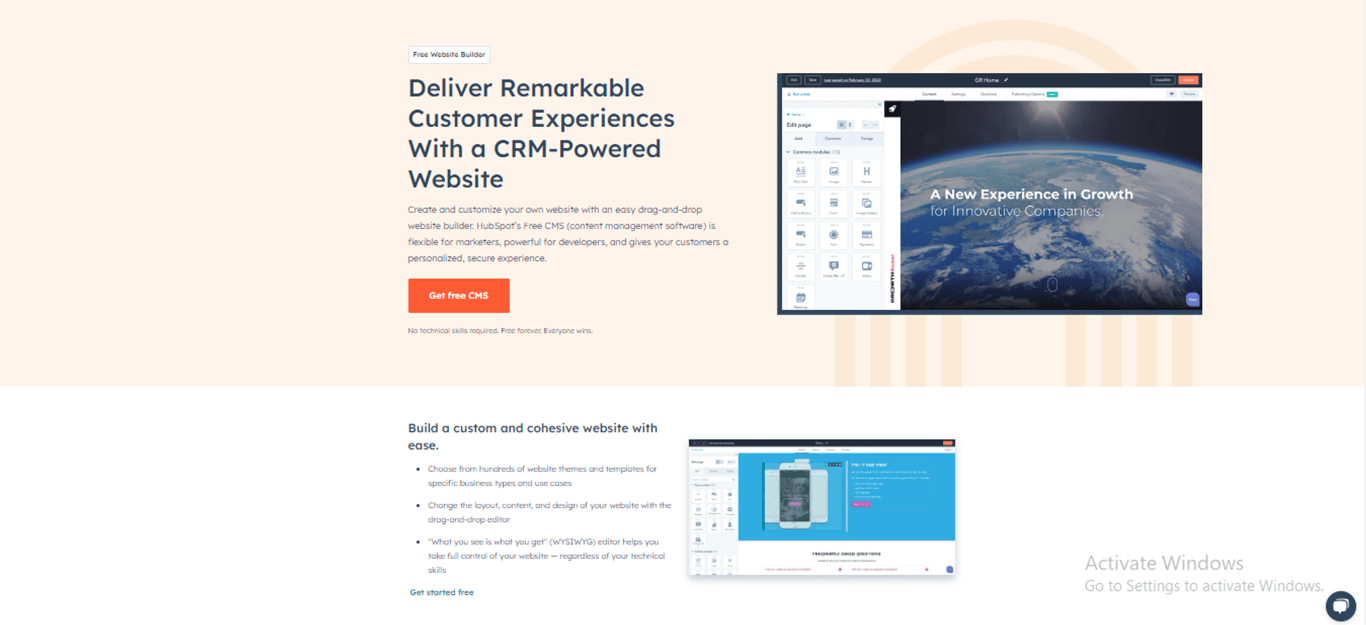 Additionally, it offers a wealth of pre-built features specifically tailored for optimizing your content."
10. Substack
Substack
is a no-code blogging platform that is specifically designed for writers. It allows writers to create and publish subscription-based newsletters, and to keep 90% of the revenue from their paid subscriptions.
Substack is easy to use, even for writers with no technical experience. Writers can create and publish newsletters with just a few clicks. Substack also offers a variety of features that make it easy for writers to build and manage their newsletter subscriptions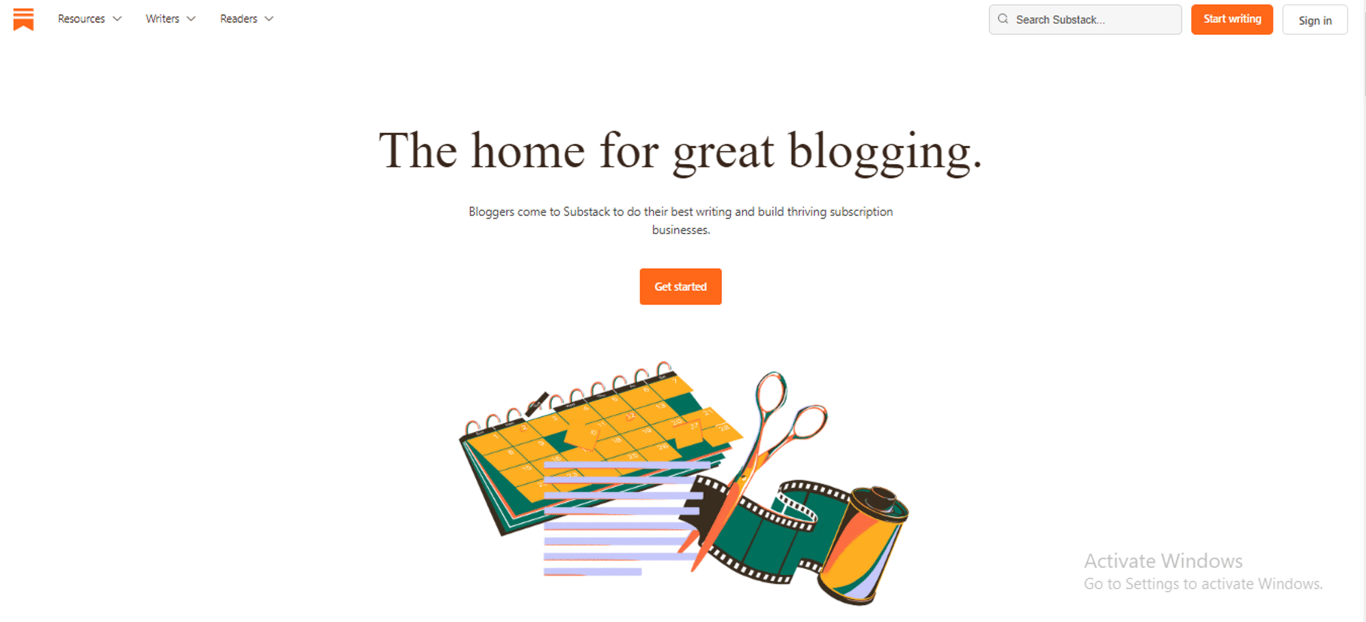 Substack is a good option for writers who want to build a direct relationship with their audience and earn money from their writing. It is also a good option for writers who want to have more control over their writing and the way it is delivered to their audience.
Use these blogging tools to elevate your site performance now!
You can find some great tools to make your blog more popular. The best part is, you don't need to know how to code for the platforms and websites we mentioned. So, even if you're not familiar with web development and HTML, you can easily use these tools!