3 step mini-guide to start your blog in 2023
Don't wait to start your blog anymore! Use Notion and publish your blog page today. Stay ahead of your competitors by regularly updating and upgrading your blog easily from Notion.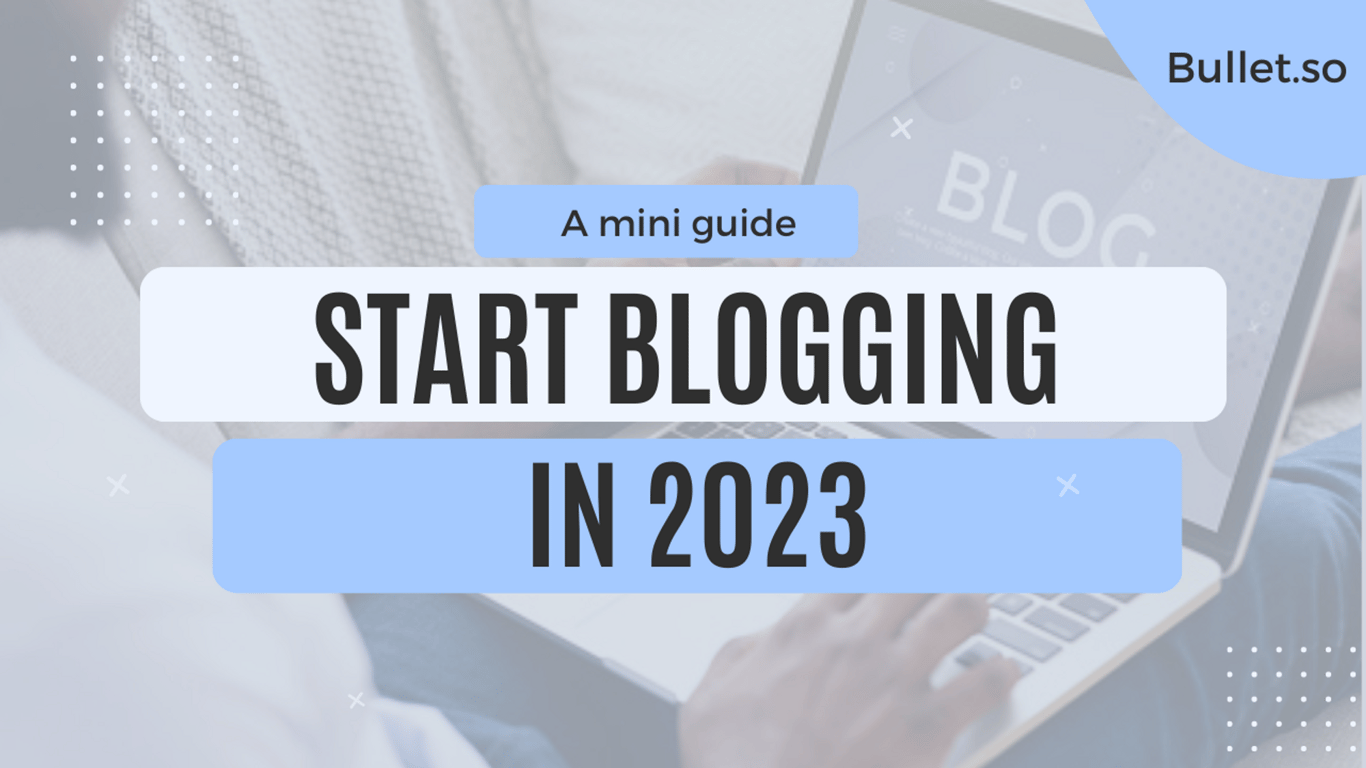 How many of you have made a resolution this year to start a blog? And how many of you have been stuck in the research stage of how to create a blog website, how to start writing and publishing? That's definitely a never-ending loop, isn't it? Notion is without doubt the content management system that makes it easy to start and manage your blog. With Notion, you can create a beautiful blog in minutes, without any coding or design experience required. I'll give you a mini-guide on how to finally start and run your blog successfully this 2023! read ahead.
First of all,
What is Notion?
Out of all the productivity tools available on the internet, Notion is not only one of the most popular, but also one of the most flexible. It can be used as a writing repository, task management software, a workout calendar, a database, and so much more. Notion is perfect for those who need a tool to help with thinking, writing, and planning. You can use it to capture thoughts, manage projects, or even run an entire company!
Research first
There are a number of ways to conduct content research for your blog. One approach is to simply read what other bloggers are writing and taking cues from their content. Here are some more ways to perform effective research for your blog:
1. Watch online videos - One great way to learn about a topic is to watch online videos about it. Search for relevant keywords and review the best ones to help you get a better understanding of the topic.
2. Read articles - Articles are an excellent way to learn about a topic in depth. Not only will this help you understand the basics of the topic, but it will also give you pointers on how to write about it effectively.
3. Use social media - Social media is an excellent way to find out what people are talking about and learn more about a topic quickly. Not only that, but social media platforms like Twitter and Facebook allow you to easily share information with a wide audience.
4. Use search engines - Last but not least, use search engines to find articles and videos related to the topic you're interested in. Not only will this help you broaden your knowledge base, but it will also provide you with useful tips on how to write content that is effective for search engines.
Write the Content
There are a few things that you should keep in mind when writing blog content.
1. Keep your posts well-organized and easy to read. Make sure that your content is easy to navigate and follows a consistent style. This will help readers find what they're looking for, and encourage them to return again and again.
2. Write about topics that are interesting to your audience. If you can focus your blog on topics that are relevant to your readers, they will be more likely to stick around for longer.
3. Use compelling language and make use of strong images to capture readers' attention. The more attention your content can capture, the more likely it is to lead to conversions or sales.
4. Be sure to regularly update your blog content with new information or fresh perspectives. This will keep readers interested and informed, and may even spark their interest in learning more about your business or industry.
There are multiple tools to amp up your writing game. Right from keyword research tools like Ubersuggest to AI writing tools like Peppertype.ai. Perform a separate research on what works for you and stack up your toolkit to produce more quality content.
Publish your Blog
Here comes the easiest part! This must have been the tricky part for you so long, but here comes the magic with which you can literally publish your blog page within seconds. There are many tools that encourage you to build your blog website using Notion.
Bullet
is the best among them. It takes care of your SEO, pagespeed, ranking, design and much more while you can simply write and hit publish within seconds. Here's how it works:
Duplicate your favorite blog template from a list of templates to your Notion page.
Customize the template according to your brand. Quality content is important for SEO, you can use AI writing tools like Copy.ai for amazing results.
Copy the public link of your Notion page, paste in on Bullet's dashboard and hit Publish!
There you have your brand new blog. You can even publish Bullet blogs in your sub-directory (ie.
https://company/blog
) if you already have a website for your business. In addition to this you can add custom codes if you like, customize your Navbar and Footer, see a live preview and much more!
Conclusion
Now that you have gone through the whole process, it's time for your next step. All you need to do is sit back and enjoy as people start pouring in to check out your amazing content!
Notion gives you all the tools necessary to create mind-blowing articles that can make a difference in this digital world. Tools like Bullet transform these Notion pages into a beautiful blog website.