Top 5 Wix alternatives
If you're looking for a more affordable and professional alternatives,  we've put together a list of the top 5 Wix alternatives that you can use to create your own website.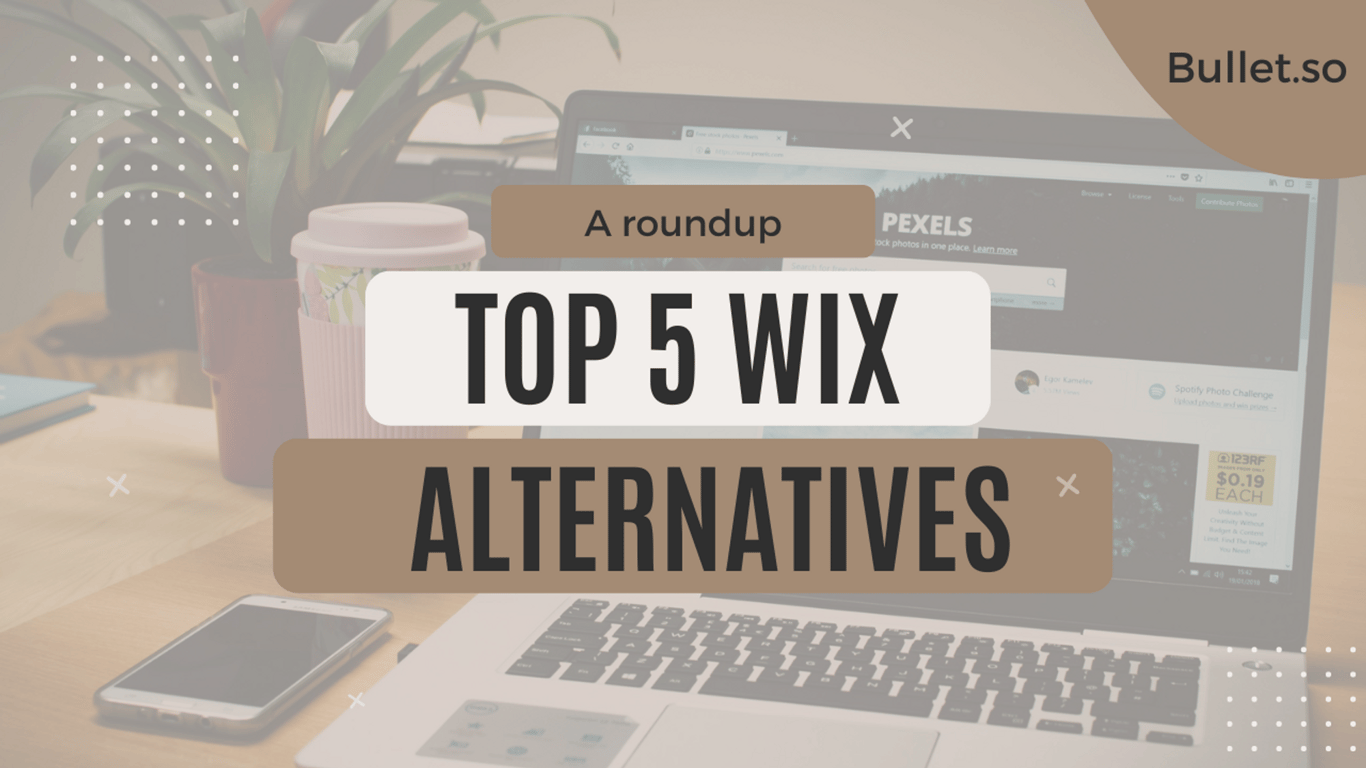 Wix is a popular website builder that has been around for a while. But if you're looking for a more affordable and professional alternatives,  we've put together a list of the top 5 Wix alternatives that you can use to create your own website. These platforms offer a range of features and customization options, so you can find one that's perfect for your needs. So what are you waiting for? Start building your own website today!
Bullet.so
Bullet.so
is a Notion-based, no-code website builder that lets you create beautiful websites from your Notion pages. With a gallery of templates for all kinds of websites, from blogs and knowledge bases to eCommerce and roadmaps, you can duplicate a template, customize the content, and publish your website with a custom domain in minutes.
Powerful SEO - Bullet websites are SEO optimized with automatic sitemap generator, high lighthouse scores, RSS feeds, 301 and 302 redirects.
Publish 100s of pages at once- Publish multiple pages at once using all new Liquid Syntax. With merge tags and conditional rendering, you can achieve programmatic SEO at ease.
Responsiveness - With more than 50% of the audience from smartphones and tablets, Bullet site is made fully responsive on all devices.
Zero code - You can build an entire functioning website with zero dependency on developers, just duplicate and publish, no code.
Collaboration - Since your entire content lives in Notion, you don't have to worry about access issues, just add your teammate to your workspace and start updating your website everyday
Live preview and Auto-publish - See how your website will look as you create and enable auto-publish hourly, daily or weekly. This eliminates the time taken to publish everytime after an update.
Squarespace
Squarespace is a website builder that allows you to create a site easily. You can choose from a variety of templates and layouts, or design your own. Once you have created your site, you can add content, create pages, and set up your website's SEO. Squarespace also offers a variety of features such as social media integration, an e-commerce platform, and an event management system.
1. Customizable templates - You can choose from a variety of templates that are designed to make website creation easy and fun. These templates include features like drag and drop page construction, pre-made pages, and more.
2. Huge library of themes and plugins - Squarespace has an expansive library of custom built themes and plugins that can be used to customize your website exactly the way you want it. From user interface customization to additional features, there's sure to be something that will fit your needs.
3. Easy site management - Squarespace makes website management easy by providing a user-friendly interface that allows you to manage everything from content to design changes with ease. You can also use the Site Manager tool to monitor your website's traffic and performance in real time.
4. A global platform - Squarespace is a global platform that allows you to easily create websites in over 20 languages. This makes it perfect for businesses of all sizes and locations around the world.
Spotify
Shopify is a popular ecommerce platform that allows entrepreneurs to start and run their own online businesses. It offers a wide range of features and options that makes starting and running an online store easy and hassle-free. Some of the key features that make Shopify stand out from the competition include:
1. It's affordable - Shopify is one of the most affordable ecommerce platforms on the market, which makes it perfect for startup businesses.
2. It has a wide range of features - Shopify offers a wide range of features that makes running your business easy and efficient. This includes everything from customizing your store's appearance to creating custom webhooks that allow you to integrate with other platforms.
3. It's reliable - Shopify has been in operation for over 10 years, which means it has experience and knowledge to draw on when it comes to ecommerce platform design.
4. It has a strong community - The Shopify community is strong and well-supported, which means that you can be sure that you'll be able to find help if you need it.
GoDaddy
GoDaddy is one of the most popular and reliable options. They offer a variety of features and tools that make starting and managing a website a breeze, and their customer service is top-notch. Plus, their pricing is very reasonable, making them a great option for anyone looking to get started quickly.
1. Hosting - You can host your website with GoDaddy and get a variety of features, such as unlimited storage, daily backups, and a 99.9% uptime guarantee.
2. Domain registration - You can easily register a domain with GoDaddy and get started on building your website right away.
3. Email hosting - You can easily set up your own email server with GoDaddy and get started sending out newsletters or other email campaigns.
4. SSL - Your website will be secure with a Secure Sockets Layer (SSL) certificate from GoDaddy, ensuring that your customers' data is safe when they're browsing your site.
5. SEO - With years of experience in the SEO industry, GoDaddy is well-equipped to help you achieve higher rankings for your website. They offer a variety of SEO services, such as link building and keyword research, to help you get ahead in the search engines.
6. Customer support - If you ever have any questions or problems with using GoDaddy, don't hesitate to reach out for customer support. They are available 24/7 to help you out!
Zyro
Zyro website builder by Hostinger is a great tool for users who want to create professional and high-quality websites. It has a vast variety of features that make it a powerful tool for creating and managing websites. Some of the features include:
1. Built-in drag-and-drop builder - Zyro's built-in drag-and-drop builder makes it easy for users to create beautiful websites without any coding knowledge. All you need to do is drag and drop the content you want on your website, and Zyro will take care of the rest!
2. Custom templates - Zyro offers a wide range of custom templates that you can use to create your own website design. You can choose from a variety of different themes, and even customize the look and feel of each template!
3. Easy file management - Zyro makes it easy for you to manage your files and keep everything organized. You can easily upload your content, manage your pages and posts, and even add custom CSS and JavaScript!
4. Advanced security features - Zyro's security features make it a safe place to store your website files. It uses SSL encryption to keep your data safe, and it also has several other security measures in place to protect your data from cyberattacks.
Conclusion
So the question is, which of these alternatives to Wix do you prefer? We recommend Bullet since you can build it directly from Notion, with amazing templates, SEO, no-code and continuously developing everyday.
At the end of the day, all these sites are known for their amazing features and functionality. Just pick one based on your needs and preferences and start making your website today!