Knowledge management systems - A definitive Guide.
Discover the in and out of Knowledge Management Systems in this definitive guide.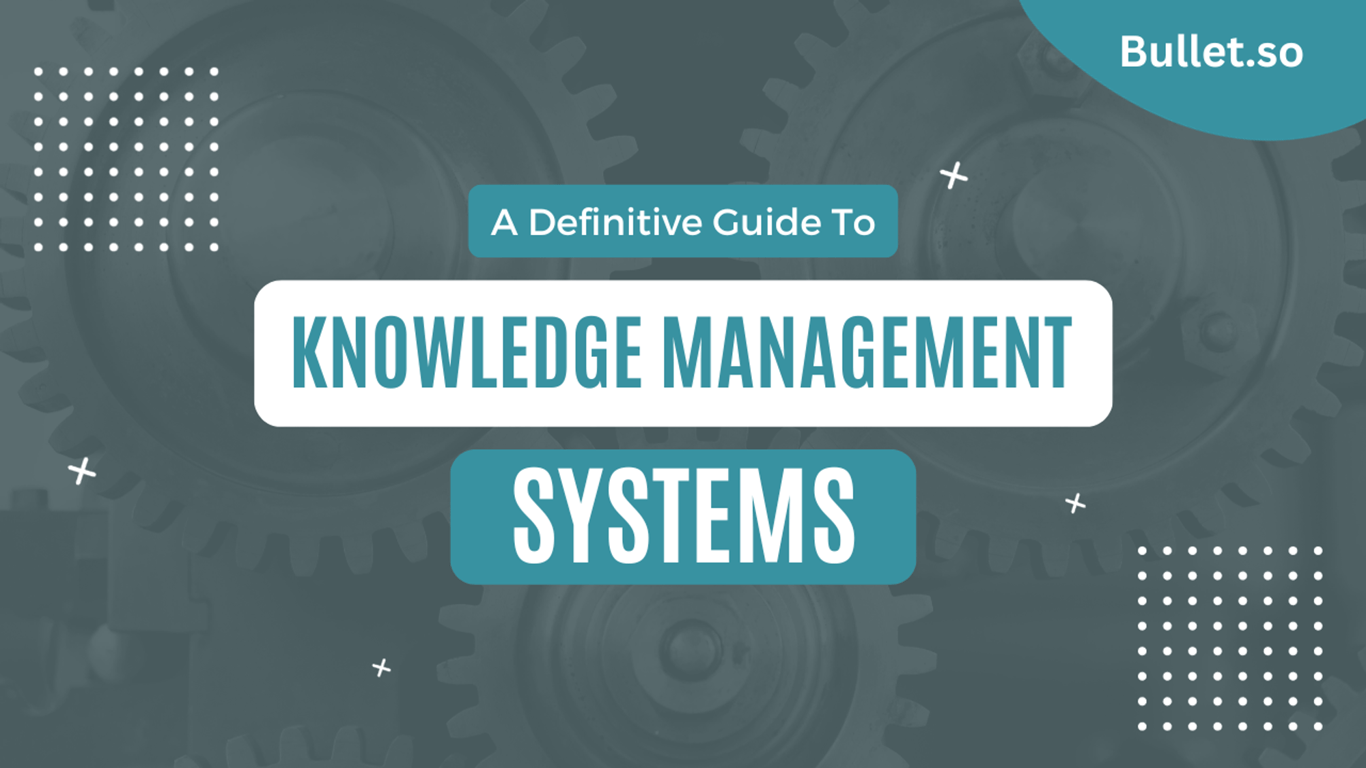 In 2022, the typical customer seeking support from a company waited an average of 43 seconds for a response. The quickest executives couldn't answer a call in less than 30 seconds.
In a customer service-focused company, information sharing is essential. It has a direct impact on your employees' effectiveness and Productivity. This is where Knowledge Management Software (KMS) steps in to make a difference. KMS plays a major role in enhancing employee productivity and efficiency in such organizations.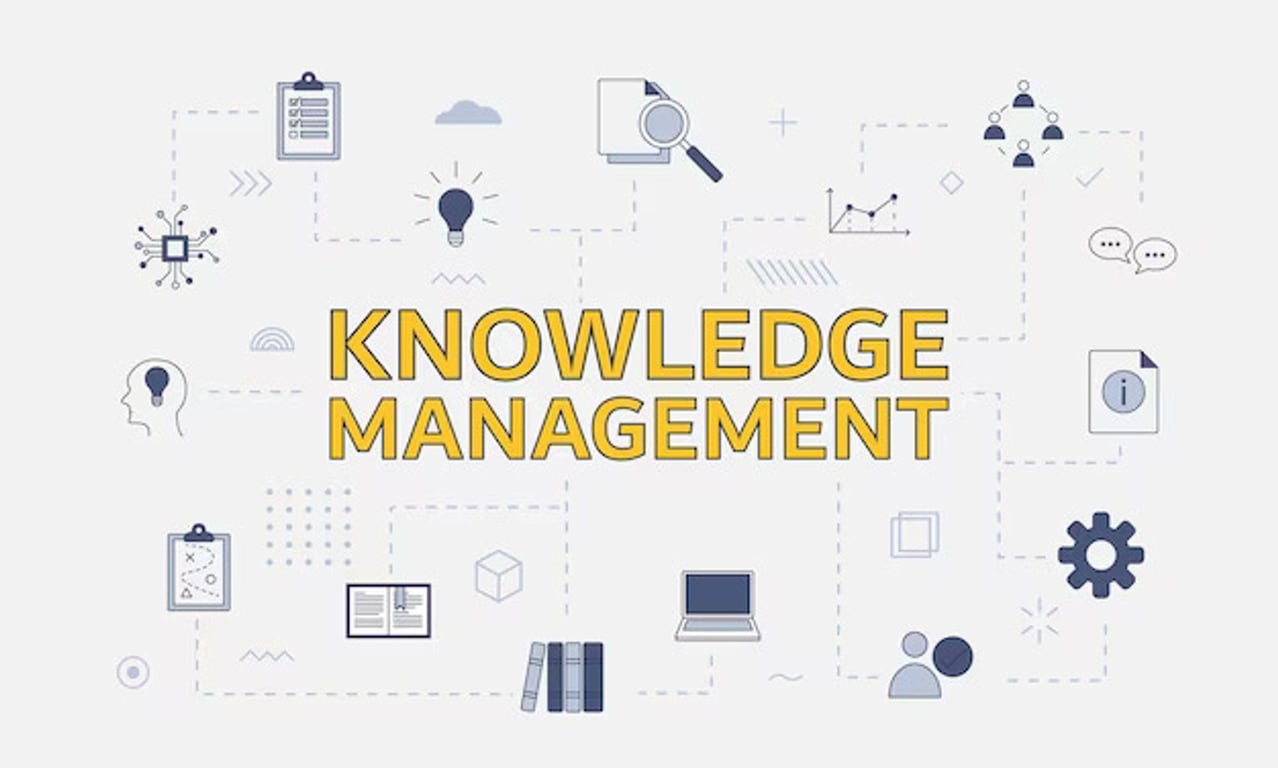 Approximately, 75% of organizations believe that Knowledge management tools help to increase productivity.
This blog will help you with an in-depth understanding of knowledge management systems. Join us as we delve into the profound impact of knowledge management.
Knowledge Management System
A Knowledge Management System (KMS) is software that simplifies how an organization creates, organizes, shares, & uses
knowledge bases
. It consolidates knowledge resources into a defined format. It is an accessible source, ensuring that the right individuals can use them when needed.
KMS ensures controlled access & distribution to employees. This results in optimizing efficiency and effectiveness for optimal results.
Why KMS is important for your business
Organizations require a
knowledge management strategy
to ensure that all users, both internal and external, are well-informed about their roles and responsibilities. When individuals lack essential information for their tasks, the organization's productivity suffers a significant setback.
In 2012, a McKinsey report found that employees spent an average of 1.8 hours per day, or 9.3 hours per week, searching for information at work.
This means that one in five employees dedicates all their time to searching instead of productive tasks.
A strong knowledge management system can help companies overcome these challenges.
Having a KMS is crucial for keeping external parties like clients, partners, investors, journalists, and media informed and satisfied with their information needs. A KMS not only benefits the bottom line, but it also offers numerous other advantages.
Top Benefits of using a Knowledge Management System
Here are the major benefits while implementing a knowledge management system, which in turn helps to boost organizational productivity.
1. Improves Information Efficiency
A knowledge management system provides a central repository for all relevant information which helps individuals quickly locate specific information. This system ensures that information is up-to-date and readily accessible to employees.
2. Improves Communication & Teamwork
Knowledge management systems help employees share information and work together more easily through collaboration features like wikis, forums, and chat platforms. This breaks down silos and aligns everyone with the company's goals.
3. Improves decision-making
Knowledge management systems help organizations make better decisions by making it easy for employees to find and use the information and expertise they need.
4. Enhances Customer Satisfaction
Knowledge management systems help organizations improve customer satisfaction by providing faster and more accurate responses to customer inquiries.
5. Improves Employees Productivity
A knowledge management system (KMS) makes it easy for employees to find the information they need, so they can focus on critical tasks like engaging with customers and providing accurate solutions.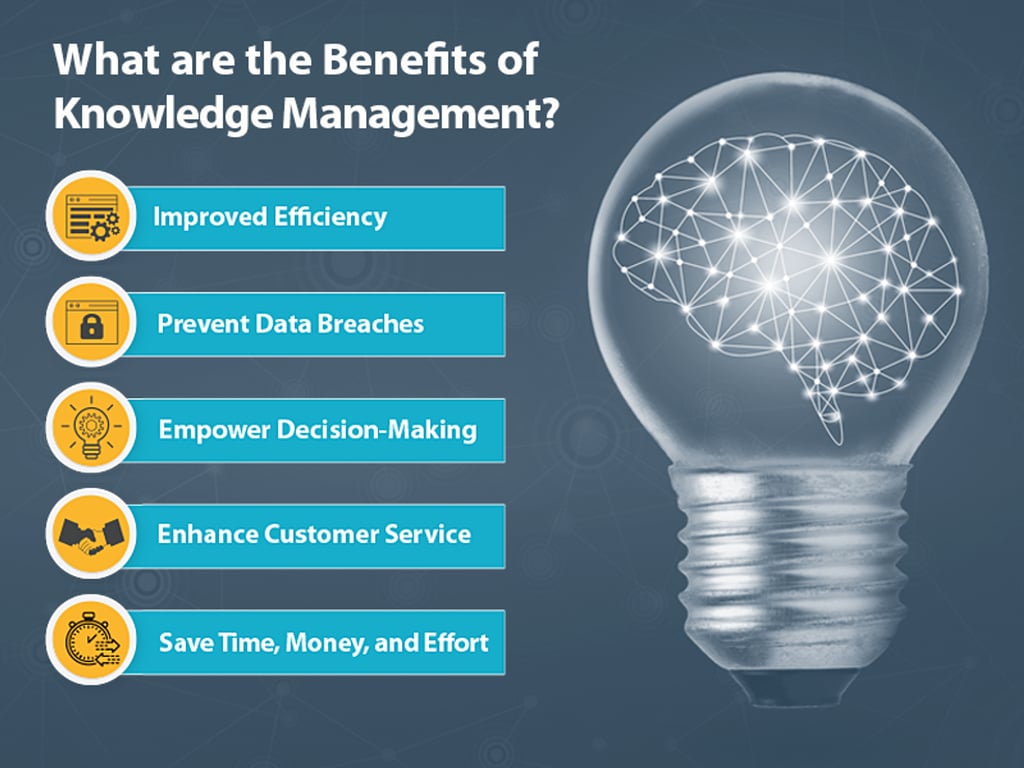 How to create and deploy a successful knowledge management system?
Below are a series of steps to create and deploy a successful knowledge management system.
Define the goal & objectives of KMS
Prior to development, it is crucial to specify the knowledge management system's purpose and objectives. This will assist to verify that the KMS is in line with the organization's requirements and objectives.
Identify and capture knowledge for storage
Identify the knowledge types for inclusion in the KMS, encompassing policies, procedures, and best practices for employees. Also, consider including FAQs and product information to aid support teams with prompt responses.
Create a structured plan for documenting this information, with a focus on consolidating it in a central repository.
A KMS is accessible to all org members, but access controls vary. Determine if it's for internal or external use.
Next, decide permissions based on roles, teams, seniority, etc. Also, restrict specific info to selected users. For instance, limit referral program details to active users and the help center is open to all registered users.
When selecting a Knowledge Management System (KMS), assess various
platforms
to find the one aligning with your organization's requirements. Take into account factors like cost, functionality, and integration capabilities. Also, prioritize user-friendliness to ensure effective adoption and utilization of the chosen KMS platform.
Fill up the KMS with knowledge assets
After choosing the KMS platform, it's time to add knowledge assets. This involves creating new content or importing existing material.
Train users on accessing, creating, and updating knowledge assets in the KMS. This ensures effective adoption, utilization and updation of the content
Keep an eye on and analyze the KMS
Consistently track KMS usage and effectiveness, gathering user feedback for necessary enhancements. Consider incorporating feedback surveys and ratings after articles for assessment.
Remember, your KMS shouldn't be static. Information must be updated in real-time with the product and company expansion, evolving preferences, and changes.
Top 5 Knowledge Management System in 2023
Zendesk
Zendesk is a highly adaptable knowledge management platform with user-friendly features. It allows customization to align with your organization's unique identity. Skilled designers can extensively modify it using HTML, CSS, and Javascript.
It serves as an internal knowledge base, a support-agent-only resource, or a customer-focused FAQ solution.
Additionally, Zendesk includes built-in analytics for user reports and behavior insights. This data helps in identifying content gaps and areas for improvement.
Document360
Document360 is a versatile and user-friendly knowledge management solution with flexible subscription plans. Its markdown editor enables easy formatting and customization, including images, links, code, videos, and tables.
It simplifies the creation of customer-friendly knowledge bases and supports smooth author collaboration through effective documentation tools.
Helpjuice
HelpJuice, a cloud-based knowledge management tool, fosters easy collaboration and customization. Its intuitive text editor and collaborative capabilities enable concurrent article creation.
Users can personalize their knowledge base with flexible access controls and templates. Additionally, HelpJuice offers robust analytics for insights into search terms, article performance, and author engagement.
ProProfs KB
ProProfs knowledge base software offers versatile tools for training, games, and live chat, along with dynamic knowledge management features, strong integrations, and user-friendliness.
It supports various aspects of knowledge management, from online documentation to FAQs and help sites. Plus, it effortlessly integrates with Wufoo, Google Analytics, and Salesforce desk, catering to businesses of all sizes.
Jira Service Management
Jira Service Management is a powerful knowledge management tool that enhances service delivery and enables top-notch customer support. It includes a central knowledge base, self-service portal, and robust search, seamlessly integrating with other Atlassian products for unified incident management and knowledge sharing.
Wrap Up
In Conclusion, a well-implemented knowledge management system is vital for improving knowledge sharing, customer service, and collaboration. Investing in a strong KMS empowers organizations to thrive in today's knowledge-driven world.
These platforms simplify the processes of capturing, structuring, and retrieving knowledge, guaranteeing that your team remains well-informed and operates at peak efficiency.