9 Best knowledge base software in 2023
Discover the top 9 knowledge base software solutions of 2023 that can supercharge your information management and boost productivity.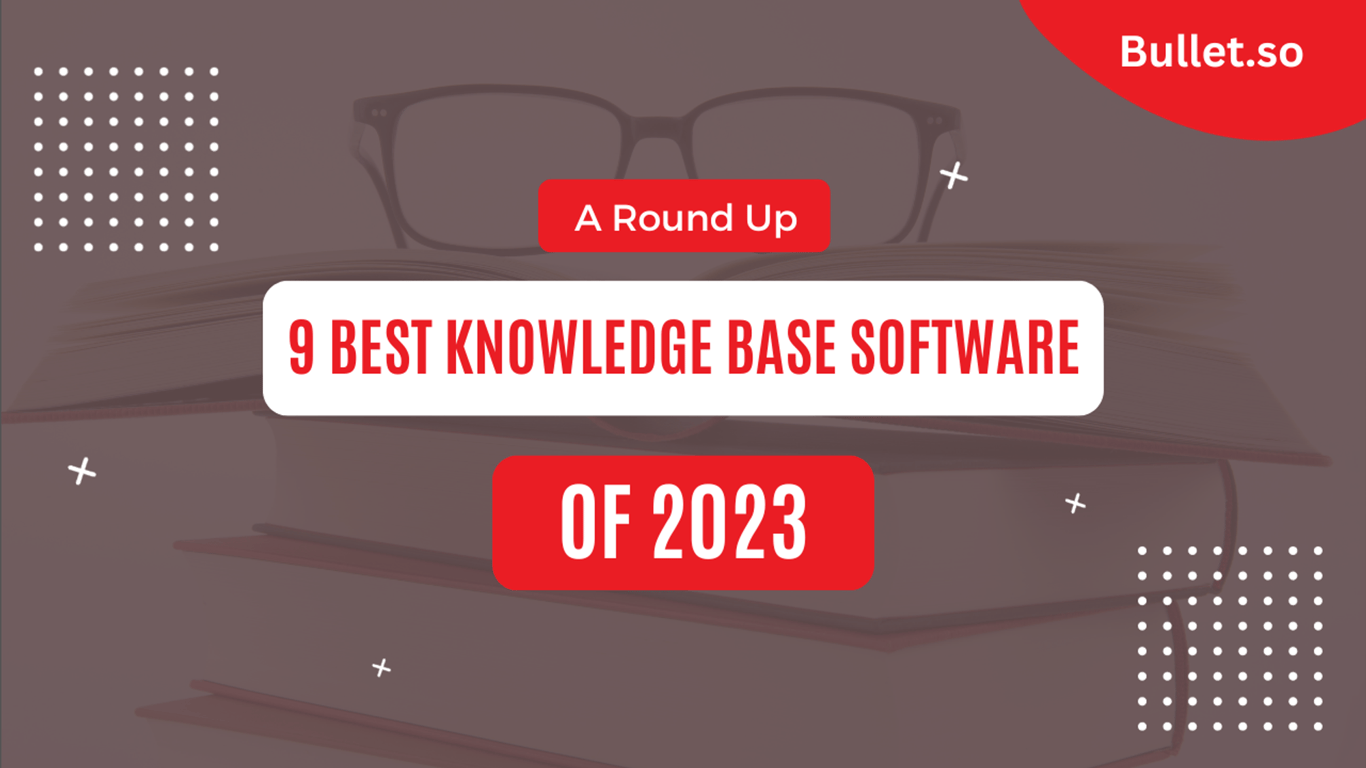 Picture a scenario where one of your customers has an urgent inquiry regarding a product or service you offer.
They have two avenues for seeking assistance:
They can reach out to your support team for guidance.
They can independently search for the solution online.
The drawback of the first choice is that it can be time-consuming, potentially involving wait times or transfers to multiple support agents.
Conversely, the second option proves to be more efficient. It merely requires a search for the pertinent question, and the answer promptly appears.
However, there is a caveat. To enable customers to find solutions on their own, companies must be aware of what customers are seeking and make those relevant answers readily accessible.
Knowledge Base Software
Knowledge base software is a versatile toolset enabling businesses to collect, organize, and share company-specific information. Essentially, its core purpose is to address common inquiries regarding your business. This is often referred to as a self-service knowledge hub. Think of it as a dynamic digital repository, readily accessible whenever needed.
Notably, a study by Econsultancy reveals that 31% of customers prefer immediate online assistance, with 40% anticipating support within 5 minutes.
This underscores the vital role of businesses in delivering prompt and effective support to meet customers by knowledge base software. The fundamental objective of implementing such software is to furnish both your customers and team members with comprehensive insights into your products and services.
Types of Knowledge Base Software
Knowledge base software is designed to capture, organize, and retrieve information and knowledge within an organization. There are several types of knowledge base software available, each with its own features and capabilities.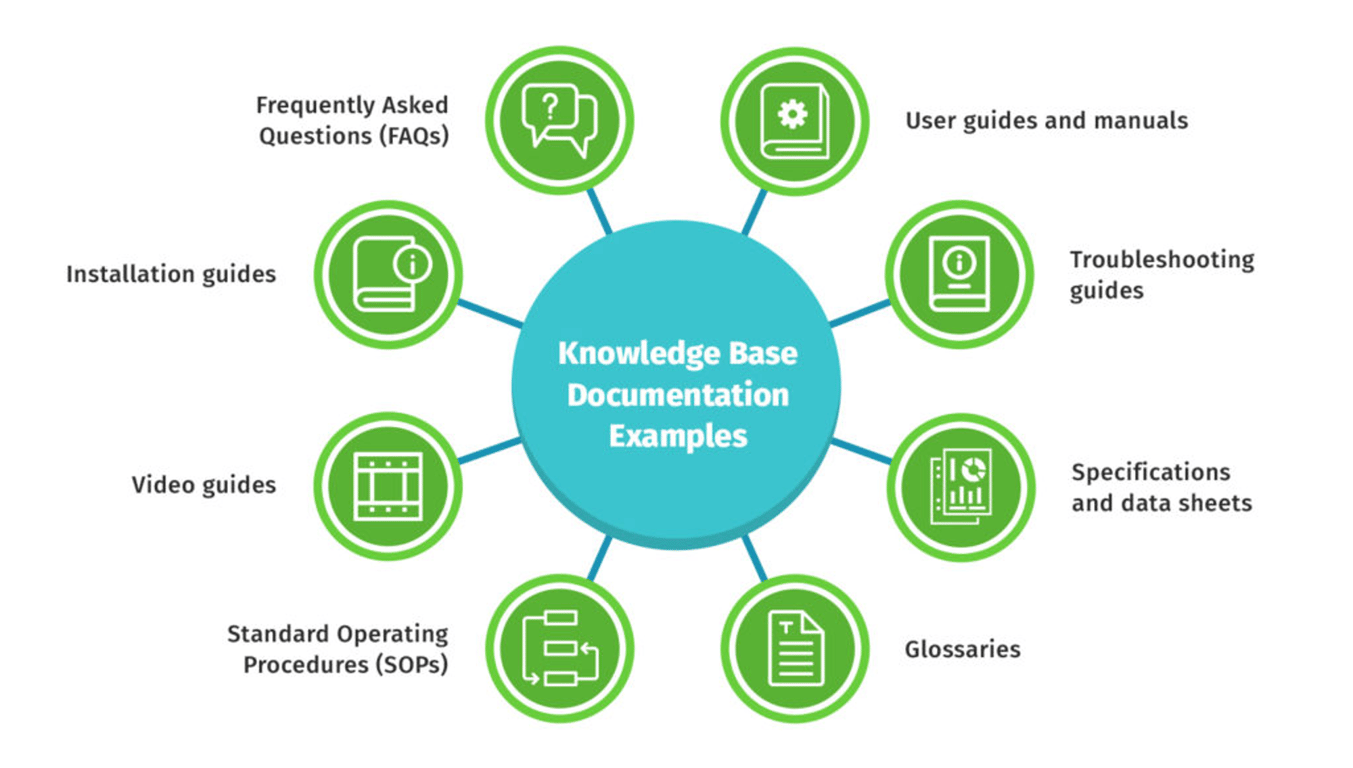 Here are some common types:
Software
documentation
is essential for users learning to use a system, encompassing installation guides, troubleshooting help, feature explanations, onboarding materials, and more.
Many companies sell products that need to be assembled or used in a specific way. Product documentation teaches your customers how to use your product correctly, which reduces the number of customer support tickets you receive.
A user manual is a guide that helps people learn how to use a product or service. It typically includes instructions on how to operate the product, as well as troubleshooting tips. User manuals are typically structured like books, with chapters and sections, so that users can easily find the information they need.
FAQ pages on websites provide a convenient way for customers to find answers to common questions, reducing the workload on customer support teams.
A troubleshooting guide can help customers solve common problems with products. It provides different ways to diagnose and fix the problem.
Installation guides help customers install new products on their systems by providing system requirements and step-by-step instructions.
Standard Operating procedure
A Standard Operating Procedure (SOP) is a step-by-step guide that employees must follow to complete their tasks correctly and consistently. It includes all the necessary procedures and processes, as well as the desired outcome and required resources.
9 Best Knowledge Base Software for your business in 2023
If you're interested in establishing a help center or wiki, or if you simply need a solution to better manage your work-related notes, here are 9 knowledge base software platforms that you should consider exploring.
1. Bullet.so
"Notion website builder to build stunning websites"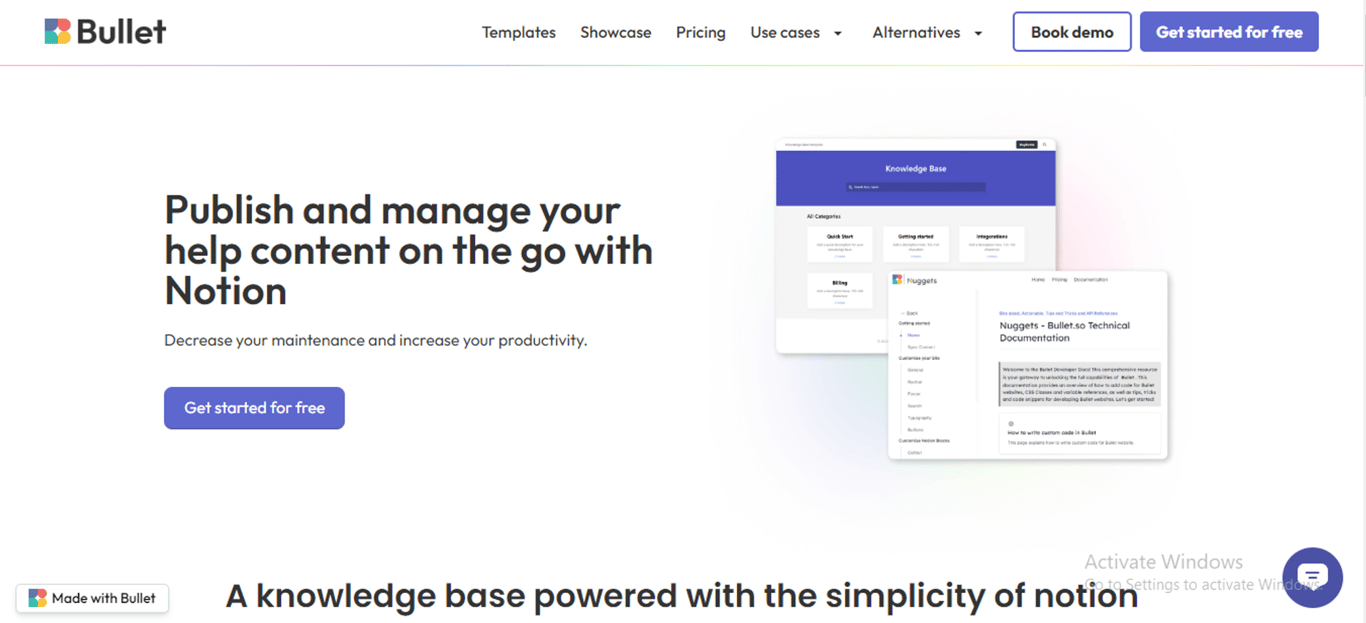 If you're looking for a top-notch knowledge base software, look no further than
Bullet.so
. It's perfect for both internal and external knowledge bases, offering essential features right from the start.
It is developed by a team who saw a gap in the market, Bullet.so allows you to craft an attractive knowledge base site in minutes using notion.
Bullet.so
is build using Notion which is an efficient content management system for storing, organizing, and effortlessly retrieving your content. You can also publish your content as webpages. This prominently helps the organization to manage their content and increases the productivity.
You can effortlessly organize content into various categories and create different levels of content grouping. Plus, its robust search bar ensures users can easily find relevant articles, even if they make typos in their search terms.
2. Notion
"Your all-in-one workspace for work, life, and everything in between."
As said by Sachin Monga, (Co-founder of Cocoon),
Notion
is a user-friendly knowledge base platform for hosting projects, docs, and wikis for internal teams.
It offers a seamless experience for creating documentation, with flexible formatting options to ensure easy navigation and content discovery.
Notion combines knowledge base and project management features to boost productivity for your employees.
3. Bloomfire
" Knowledge sharing and collaboration for the modern workforce."
Bloomfire is knowledge base software designed to eliminate organizational silos by centralizing knowledge. It deeply indexes all files, including videos, ensuring employees always have easy access to relevant information.
Personalized feeds deliver relevant knowledge, even content users didn't actively search for. Bloomfire fosters a community approach to knowledge, keeping employees engaged through Q&A interactions.
4. Zoho Desk Knowledge Base
"Empower your customers with self-service"
Zoho Desk offers help desk software with an integrated knowledge base for user self-service. You can create multiple knowledge bases with custom designs to build a branded help center.
These knowledge bases can be public or private, depending on your content's purpose. Zoho Desk also supports forums and communities for user-driven assistance with product inquiries.
5. Zendesk Knowledge Base
"Self-service support that delights your customers"
Zendesk Guide,
included with
Zendesk
, is a knowledge base tool. It integrates with your help desk system, allowing you to craft articles for customers or support agents.
While it requires the purchase of a Zendesk help desk for access, it empowers you to create an appealing knowledge base with organized content. Zendesk Guide also maintains a history of changes, showing who made them and when.
6. Guru
"Your company's all-in-one solution for trusted information"
Guru is a wiki tool that consolidates your team's knowledge, emphasizing the interconnectedness of information.
It offers seamless integrations with popular apps, simplifying access to data. Users can ensure content accuracy, and Guru can be customized to create visually appealing knowledge bases for various teams within your company, such as marketing, engineering, and support.
7. HelpCrunch Knowledge Base
"Self-service support that scales with your business"
HelpCrunch provides an integrated knowledge base within its help desk software. It is user-friendly, linked to their product suite, and designed to reduce support tickets.
Unlike standalone knowledge bases, HelpCrunch includes analytics to measure article effectiveness, focusing on customer-facing solutions.
8. Document360
"Your knowledge base software for empowering customers and teams"
Document360 is an ideal knowledge base tool for expanding businesses. It enables the creation of both public customer help centers and private employee knowledge bases.
The platform boasts a robust content creation system with a powerful editor and category manager. Additionally, it offers a "Knowledge Base Assistant" for immediate in-app customer support.
9. Helpjuice
"Deliver instant knowledge to your team and customers"
Helpjuice is a user-friendly knowledge base tool that enhances team collaboration and simplifies customer support. Its versatile editor and customizable templates enable you to effortlessly craft a visually appealing knowledge base.
It supports managing multiple article versions, fosters team collaboration through comments, and offers performance tracking via reports.
EndNote
When considering a new tool, remember it's a significant decision involving time, money, and effort. So, define your needs and goals upfront, and stay adaptable as your requirements may change while exploring options.
During the evaluation, maintain a critical mindset, seek input, and take your time. With a well-thought-out strategy, you'll make the right choice.
Even if you currently only need a knowledge base, consider future expansion like adding live chat or a customer service team. When deciding, prioritize software's scalability and adaptability over time.