Why we chose to stay away from auto-syncing Notion
After getting this question regularly, we decided to create a blog post for it. Read ahead to know why manual publishing is greater than auto publishing.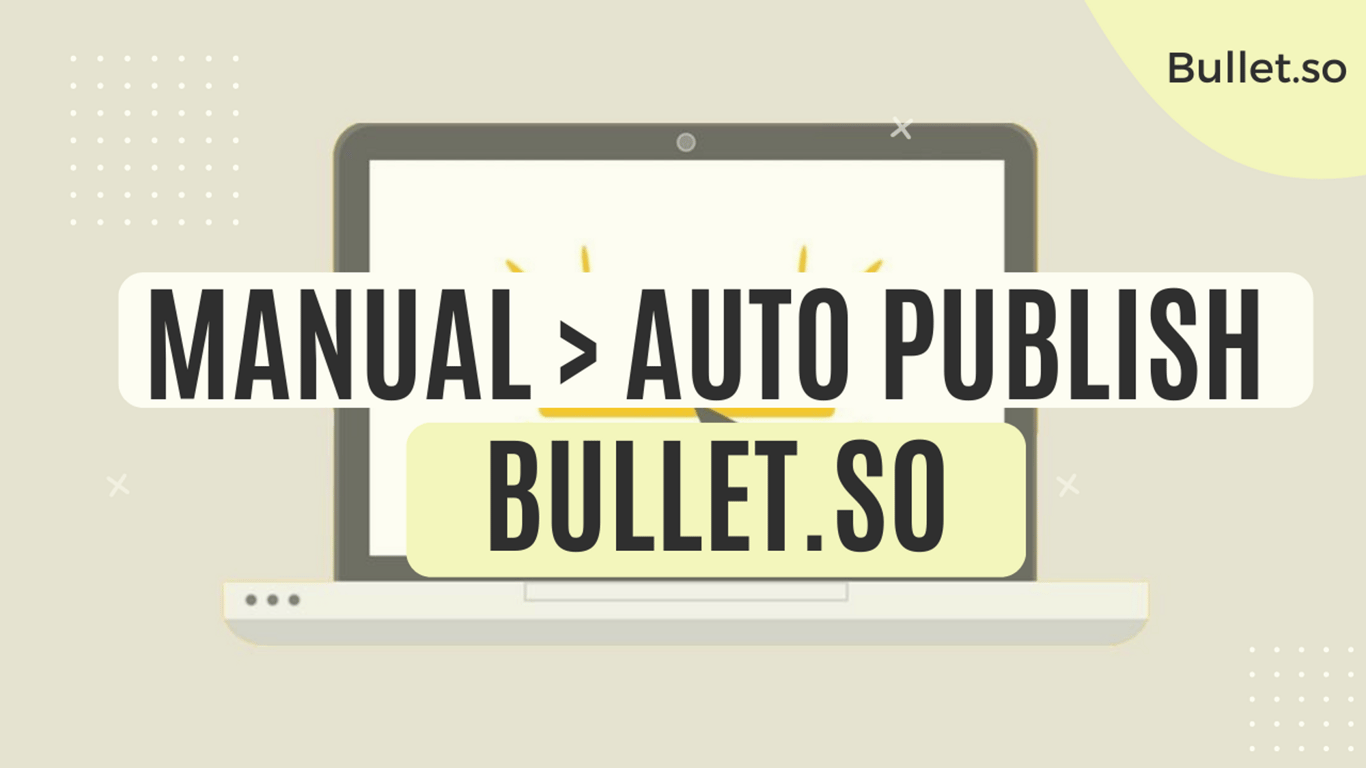 Manual publish/Scheduled publish >> Auto sync
"Why don't you have auto-sync on Bullet?" We get this question a lot so we decided to write a blog post about it. You can edit your content anytime, anywhere and publish it from Bullet in just a click.
Bullet is a website builder, where you can edit your content anytime, anywhere and publish it from Bullet in just a click.
But why not auto-publish?
We've got not just one but 4 reasons why we chose manual publishing. Read ahead.
Primary problem - Auto sync doesn't wait for you to complete
Once you have an auto-sync, there's a high chance your users can see your work-in-progress or even worse, your typos and errors. New user entering your site can see your incomplete work as you're working and worse, they can constantly refresh the page and see every letter as you type.
With Bullet, you can write/edit at your own pace, triple-check and then publish it whenever you're ready
Google indexes your incomplete content
One of the most important yet underrated reason is Google indexing. The ultimate purpose of any professional website is to rank and reach its target audience. Once you add your website to search console, google indexes your website anywhere every few days to few weeks. Google also indexes your incomplete or work-in-progress pages resulting in google pulling your domain down because of incomplete content.
WordPress, Wix, Webflow…
The pioneers of website builders don't auto-sync their editors on live pages either. Although you can schedule your pages to publish, the site doesn't auto-sync for every little change in editor that you make, again ensuring that your page is perfect before it's open for the world to see.
Professional websites cannot risk using Auto-sync
For all the above reasons, any professional sites cannot risk auto-sync their notion to their live websites. Surely for one off sites like portfolios, resume, or hobby projects it would be good.
But if you are building landing page and content marketing stack using Notion, auto-sync is a bad choice.
Additionally, we also offer syncing daily and hourly from notion, so the publishing times are predictable.
While some Notion based websites decided to keep manual publishing at super premium charge, we decided that manual publishing is the birth-right of all Notion users.
What do you say?
Bullet is made for professional sites from startups to enterprises. We'd love for you to create fully functional professional websites from Notion using Bullet and scale it up using Bullet blogs, directories, knowledge base, changelog, employee portal, internal tools and so on.
In fact, this whole website is built from Notion using Bullet.